YEAR ONE – OUR FIRST TRIP
June 30 – July 7, 2019
This was our first trip.  We knew what we wanted to accomplish but we didn't know exactly how to do it.  We visited three villages, spoke with teachers and parents, and presented the program to the children.  We put together a syllabus with the help of our scientists and teachers and then had the challenging job of only selecting 14 children (we wanted to take them all).  The following is an attempt to share with you our first Hèroes del Mar expedition with all of the excitement and joy we experienced.
PREFACE – HOW WE SELECTED THE KIDS WHO PARTICIPATED
When we originally put together the program, we thought we would bring 4 kids and 1 adult from three different communities.  Most of these kids had never left town before and the parents are very protective.  So when we were selecting the kids, the parents quickly realized that, if they did not go, it meant one more child from their community could go.  The fact that it was more important for a child to have the experience was really beautiful.  In the end, we had 5 kids from the community of Ligüí (Ligüí serves 3 communities), 5 kids from Agua Verde (2 of the kids came from San Cosme) and 4 kids and one professor from Santiago (Santiago serves 50 communities).
What also helped us was that many of the communities already knew Dora and Quino el Guardian because some of the husbands had worked on the boat for citizen science trips.  Remember these are small communities where everybody knows everything.  The parents were as excited as their children to have this opportunity to learn and grow.
JUNE 30, 2019 – DAY 1 – ARRIVAL
Departure from La Paz to Espíritu Santo Island
The kids arrived in La Paz that afternoon via a shuttle.  They were very excited to be here but also incredibly shy.  A few of the kids knew each other but most did not.
The first thing we did was bring everyone into the dining room had each child introduce themselves along with sharing what they hoped to gain from the program.  Some of the kids were mystified as to what they would be doing; they couldn't wrap their minds around what this was about or where they were going as they have never been outside of their village before.
Once we did that and had dinner (it's amazing how food brings everyone together), we went upstairs – to the shaded sundeck area – and played an ice-breaking game.  In this game, the kids, without speaking, had to arrange themselves in order from oldest to youngest.  They used hand signals and, because of this game, we knew right away who the leaders of the group were.  There were two girls that immediately started signaling to the other kids, "you stand here and you stand here".  It was a really good way to get to know them.
Then they had to do it in the opposite order from the youngest to the oldest and, surprisingly, it was really tough.  Here we could see who the thinkers were.  There was one little girl who knew she was the youngest and started directing others.  It was a lot of fun watching the kids interact with each other.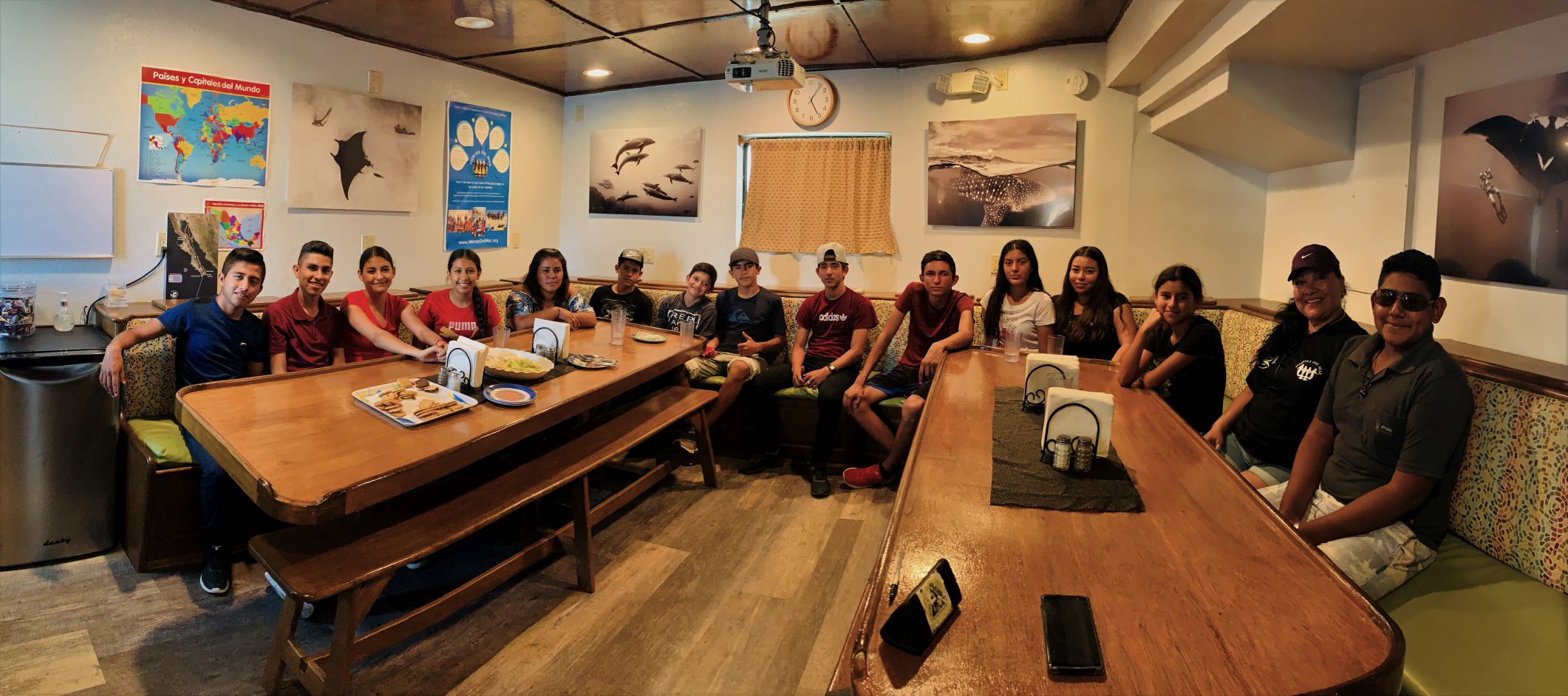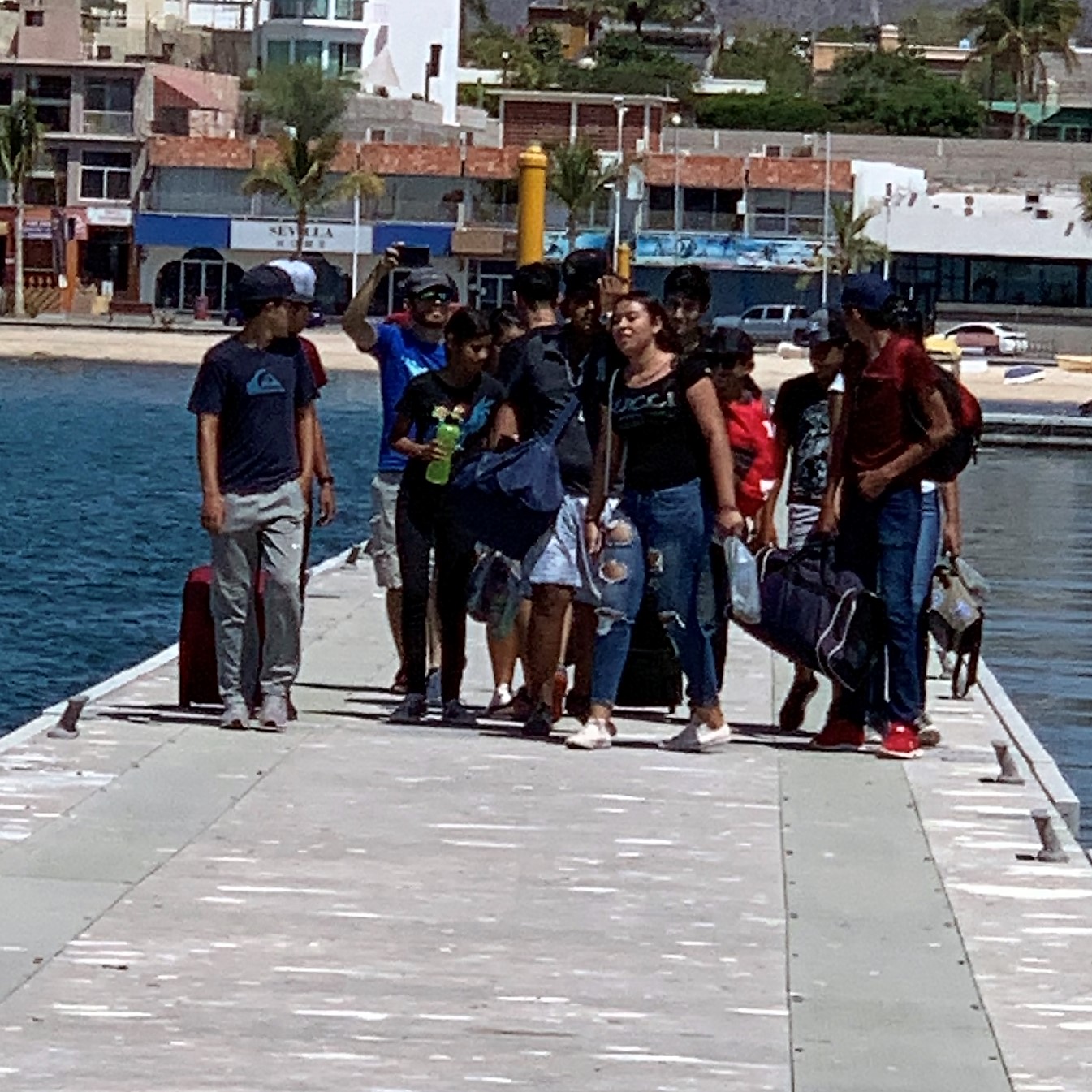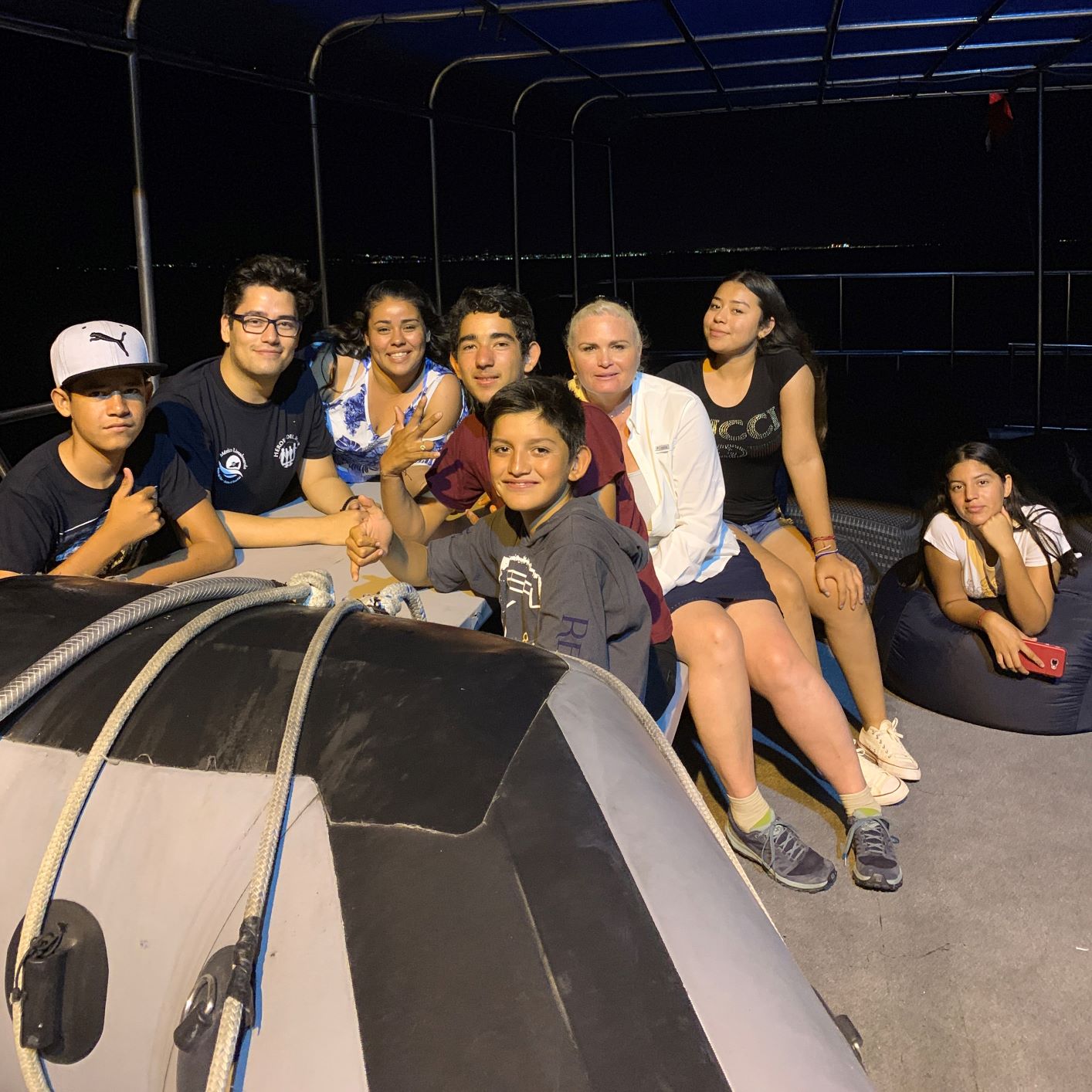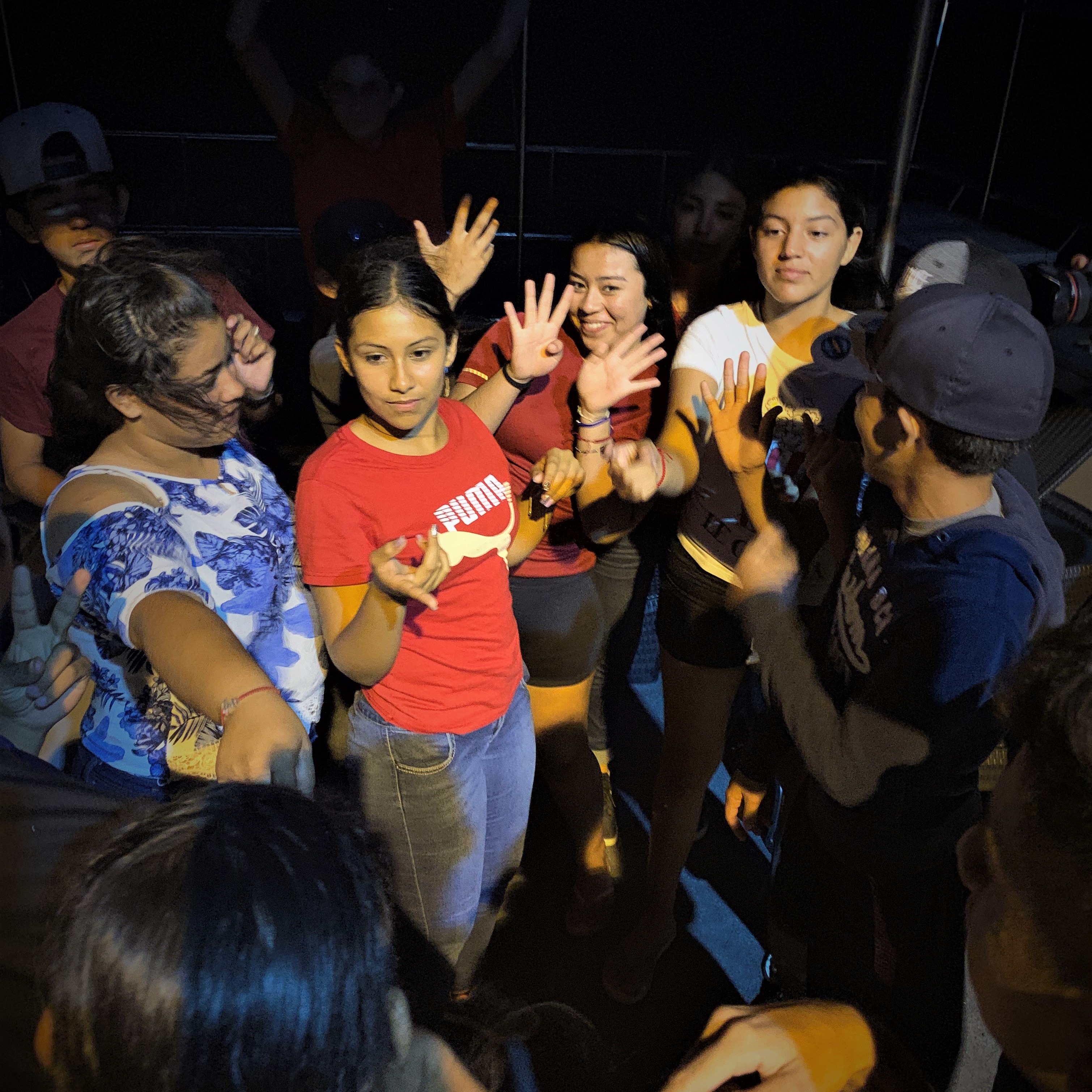 JULY 1, 2019 – DAY 2
Espíritu Santo (site: El Candelero)
On this trip, many of the sites we visited were new to us.  Remember that we are a dive boat and most of the time we are visiting underwater sites.  So we got to see many of these places for the first time along with the children. 
Our first stop was Espíritu Santo Island and El Candelero bay for a hike.  It was a beautiful bay.  Paulo Preciado (one of our scientists) lead this tour and shared with the kids what life is endemic on the island and the problems the island has faced – like the fact the island is overrun by goats!  The canyons were red and absolutely spectacular.  We came across a well that is used occasionally by campers.  After the hike and the kids wore themselves out chasing goats, it was time for our first in-water experience. 
We gave the kids masks, snorkels and fins.  For most of them, this was the first time to use this type of gear and some really didn't want to use it.  We encouraged them to try it and showed them that by using it properly, it would give them the freedom in the water to see new things.  We had two young girls that didn't know how to swim so we had them in life jackets and kept a very close eye on them.  By the end of the trip, they were amazing swimmers.  We were out there for a couple of hours letting the kids get comfortable being in the water with the gear. 
Our next adventure was bird watching in San Gabriela Bay.  This place has the largest colony on this side of the world of frigates.  We learned that frigate birds can't get wet.  They survive by stealing the fish from other birds. 
Back on the boat, we did our first economy class to get these kids thinking about budgets and money and what it means and if you spend more than what you have.  For example, many of these kids come from communities that survive on fishing.  It is very common that fisherman live day to day and, if they have a good week, they and everyone in the village eats and drinks like kings.  But a week later, they start all over again with no money.  Our goal is to teach these kids to budget so that, when they have a good week, they live as they always do.  This way they can be self-sufficient and will be able to support themselves no matter what.  Maybe next season they buy a second boat.  In addition, instead of selling their fish to someone else to process it, show them how to handle the fish from the catch all the way to the market.  This way they can make more money on the same amount of fish and maybe it even allows them to fish less.
The best part – the kids got it!  The kids are smart.  In Mexican culture, children are often quite independent.  They are used to working at a young age and having responsibilities.  Families work together and it is not uncommon for the kids to become mentors to the parents.  The parents are open to what the kids say. They listen to their kids.  If the kids tell them that something should be done another way, then that's the way they will do it.  These are humble people and often do what they do because they don't know any better. Once they do know better than they change their way of living. It's incredible on how big of a difference can be made in such a short time.   
After the economy class, Amy Hudson from COBI (Community and Biodiversity, who came on board for two days) gave all of the kids' field journals.  She taught them how to do a field journal and the importance of documenting what they see right away so they could remember all that they saw.  She showed them that this could be done with words or drawings.  For example, later when we went to the mangroves, the kids came back and drew what they saw.  Then they'd look it up in the book to find out what it is they saw.  Some of them had incredible skills of drawing and some kept it as a diary.  The journal along with the lesson of how to use it was a wonderful gift and many of the kids could be found entering what they experienced at the end of each day.
In the afternoon, Dora gave a sales presentation on her business like she had never met them before – just like she would do at a travel or dive show.  "Hi, my name is Dora Sandoval and I have two boats in the Sea of Cortez and Socorro."  She showed them her brochure and how it showed who the company was, where the boats went, when the boats went there, what the prices of the trips were, etc  She explained that this brochure is a world of information and then challenged each one of them to do the same for their community.  They could do it as an individual or as a group, it was their choice.   Some of the kids from Agua Verde said they have beautiful mountains, one child said they had horseback riding and hiking, one young man wanted to do a seafood restaurant, and one young girl wanted to do a bed and breakfast in Santiago so you could visit the waterfalls.  Every day they worked on their brochures and presentations for an hour so they could present their project at the end of the week.    They were enthusiastic and it was amazing to watch them.  The future restauranteur encouraged everyone to come to his village.  He said, "Don't you like sautéed seafood? Bring us your fish and we will prepare it any way you like".  They were so charismatic and everyone had a lot of fun. 
That night we did another ice-breaker upstairs.  We did a grapevine where the first person had to write a message on someone's back with their finger and the next person had to write it and so on.  It was completely senseless but somehow at the end, the message got through!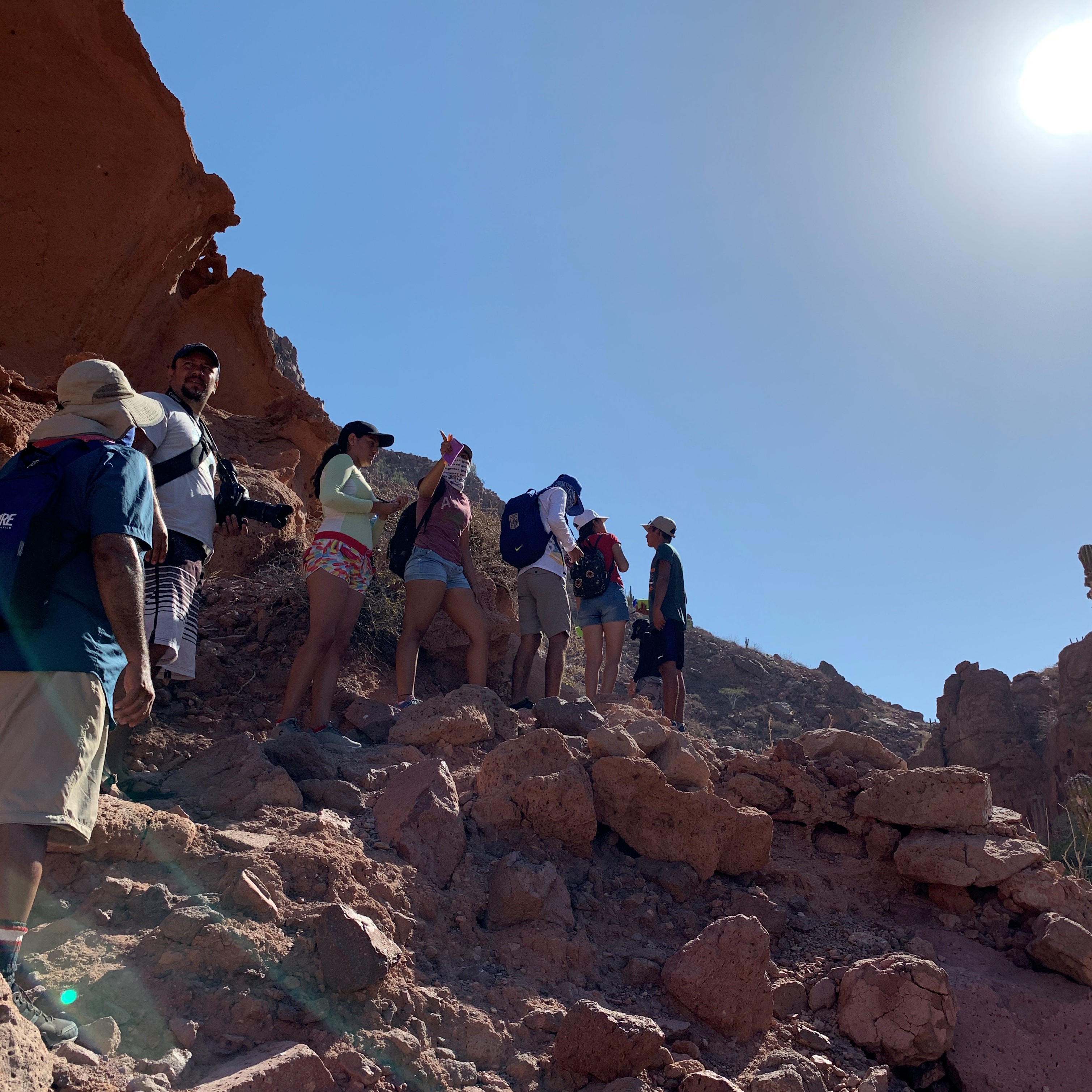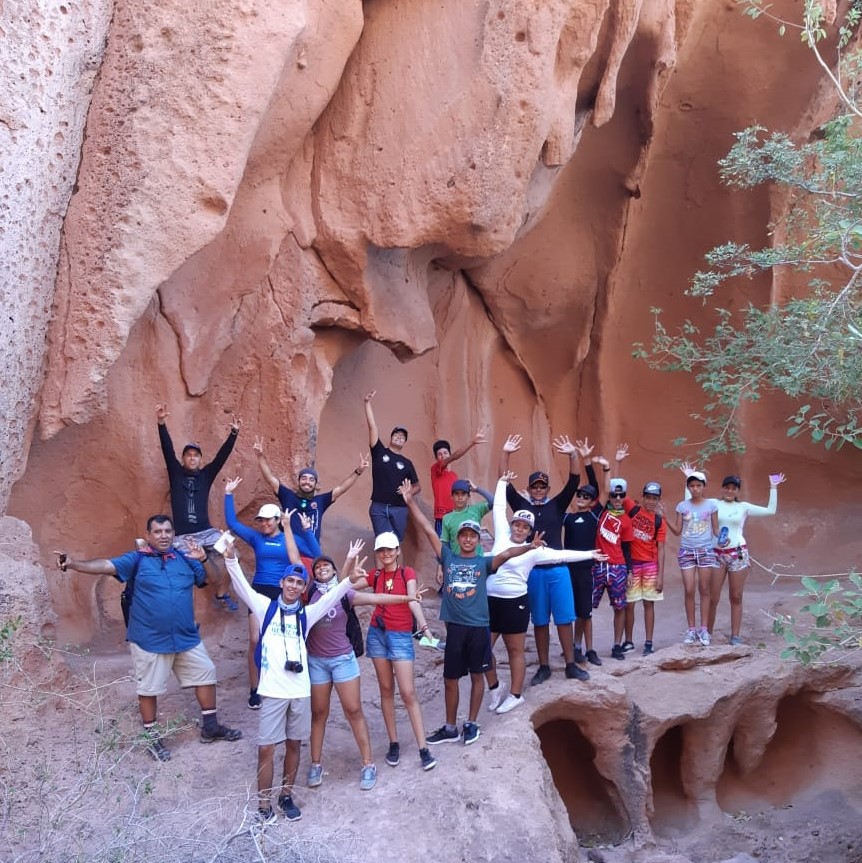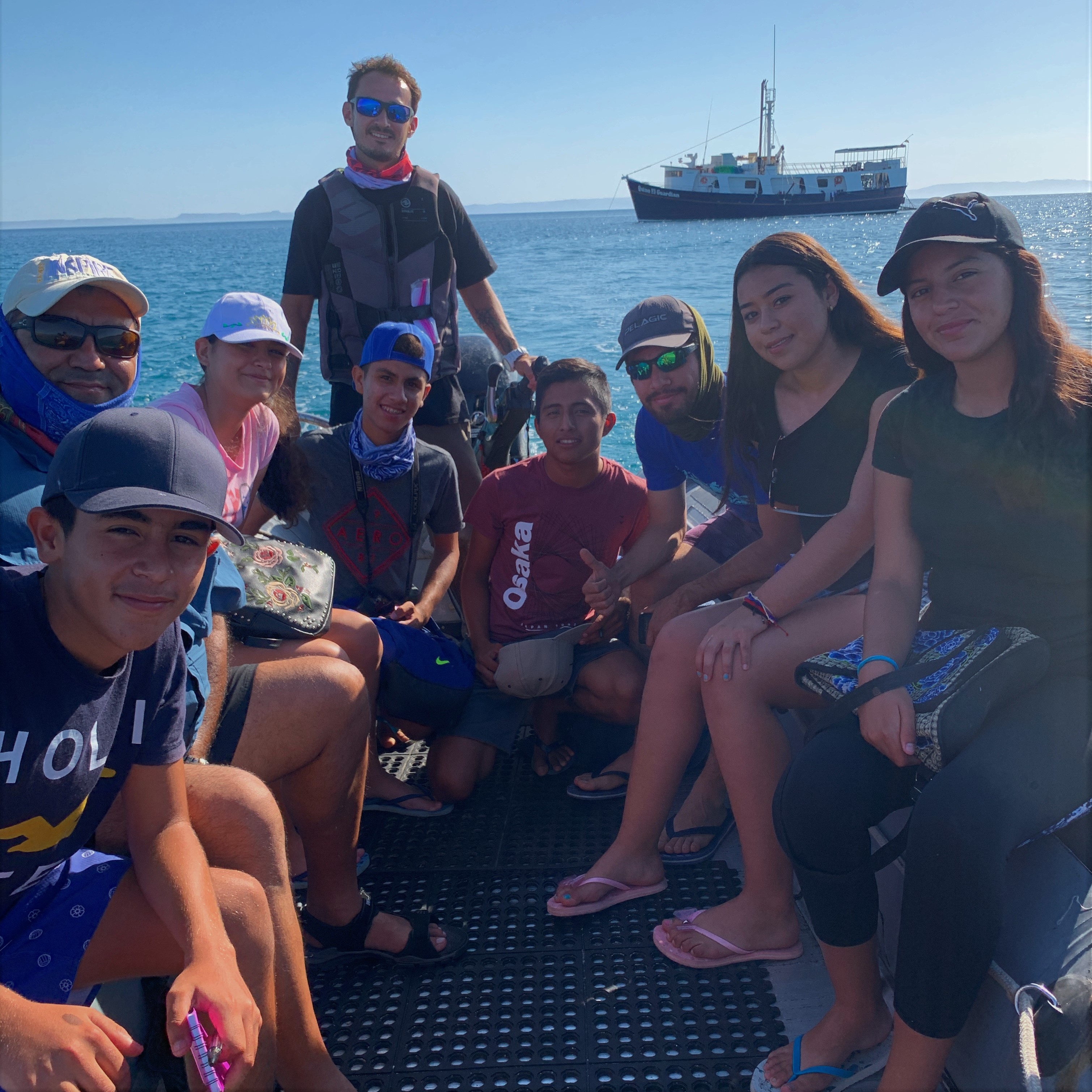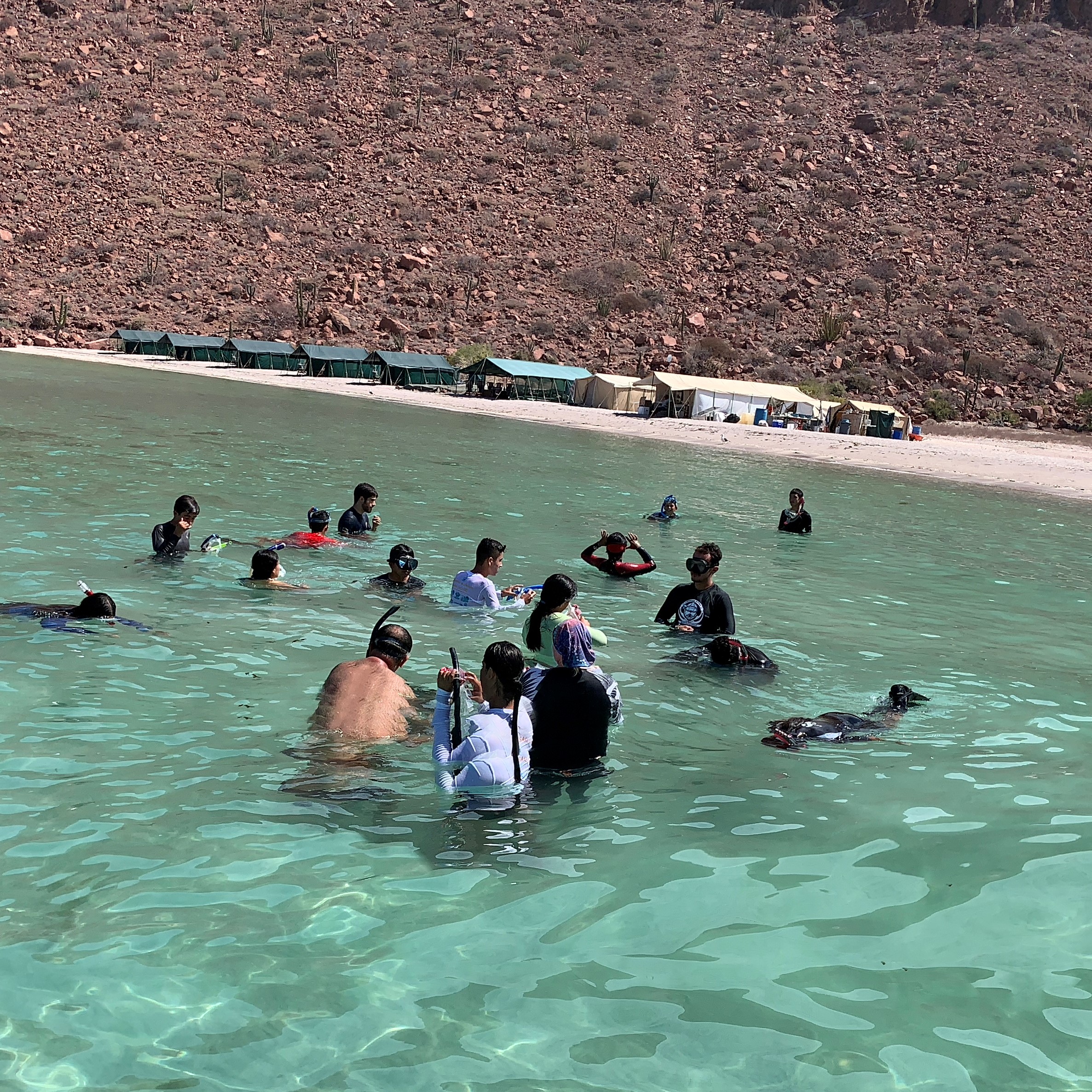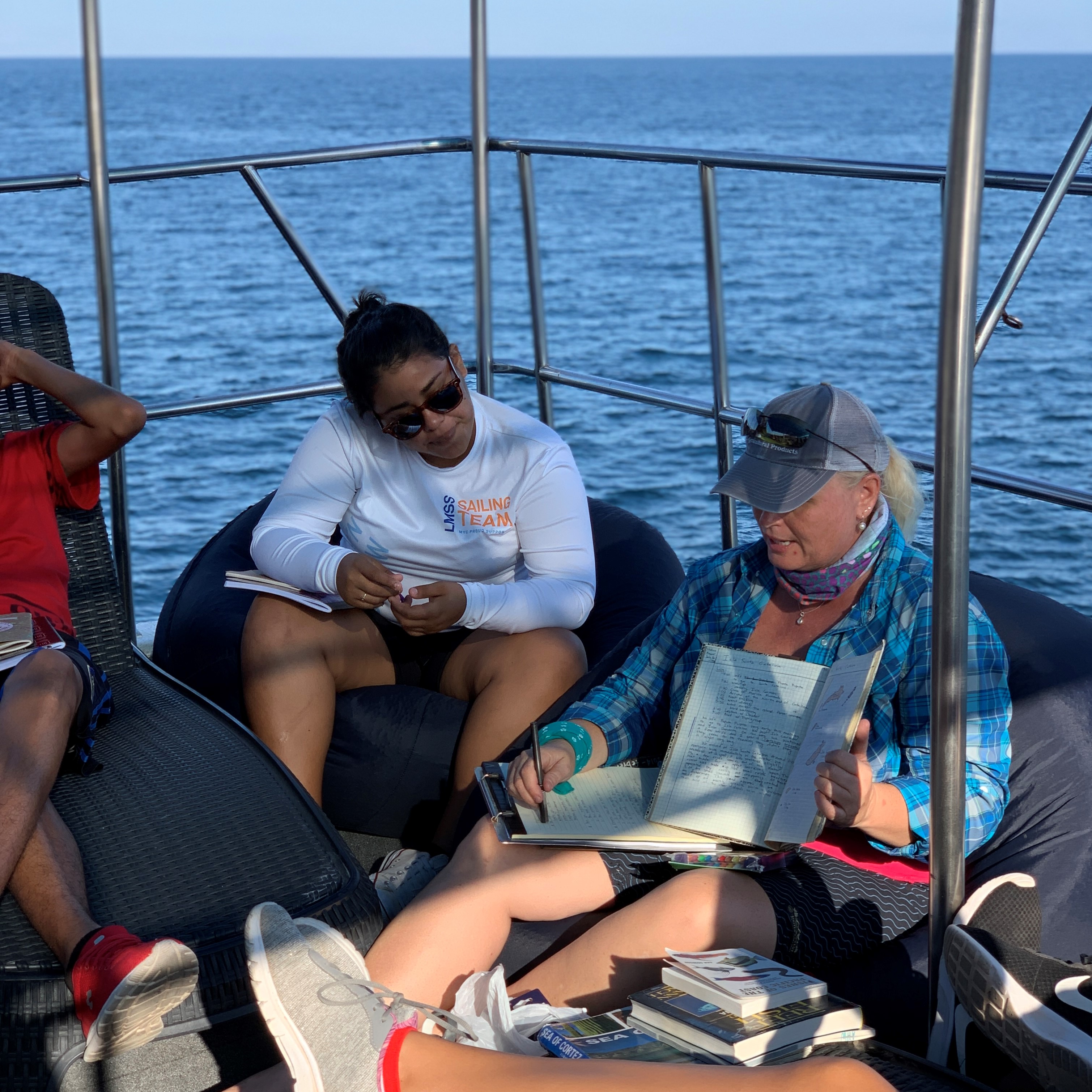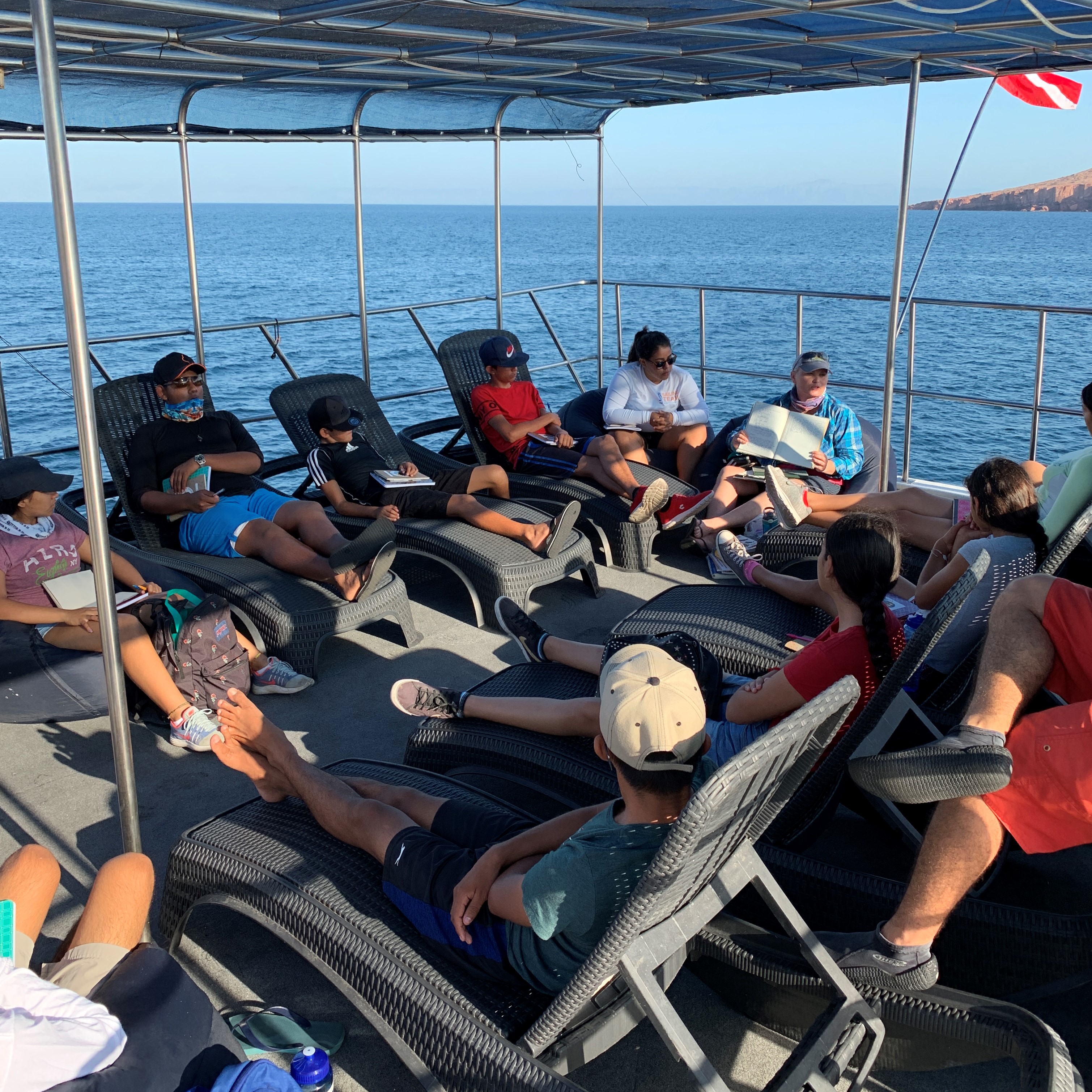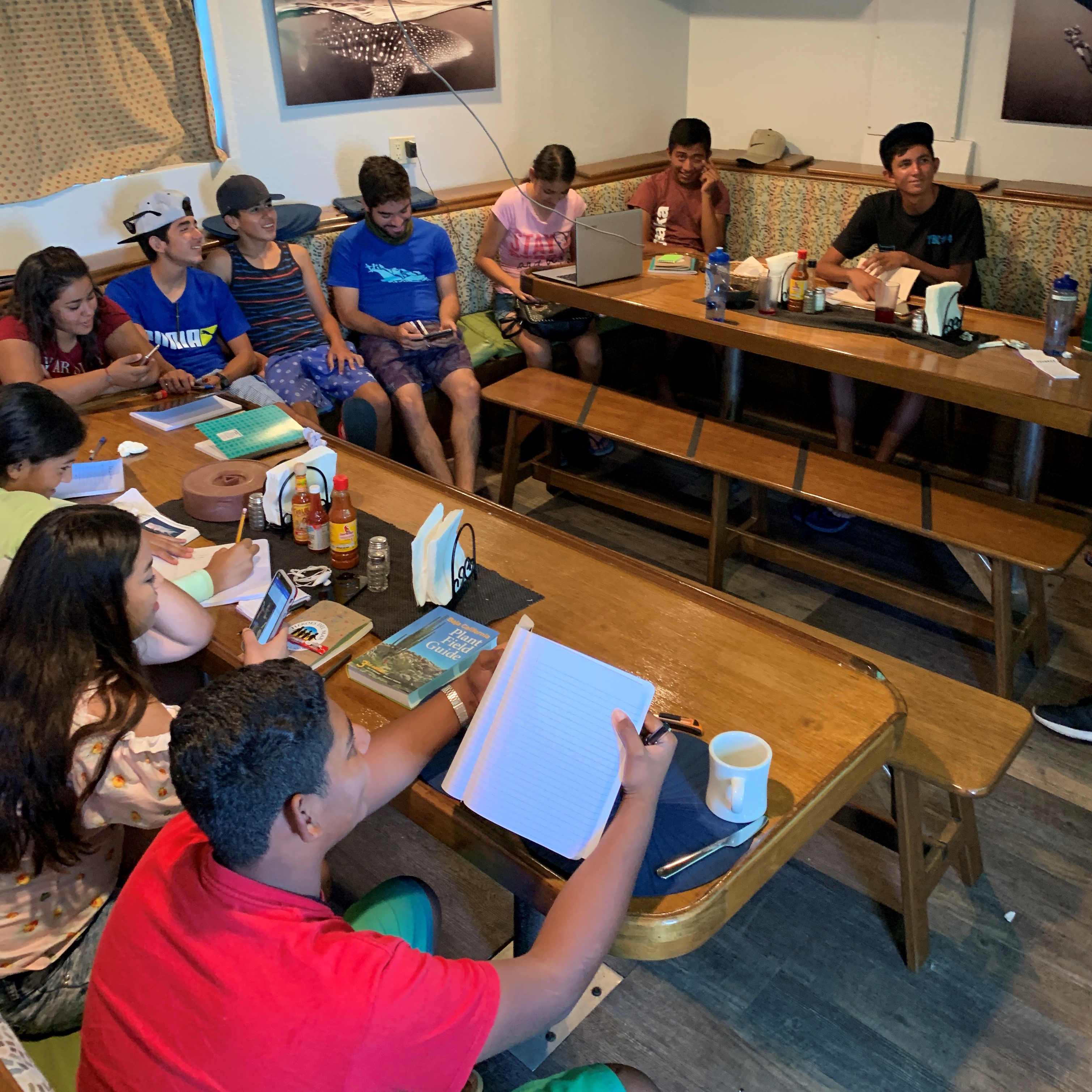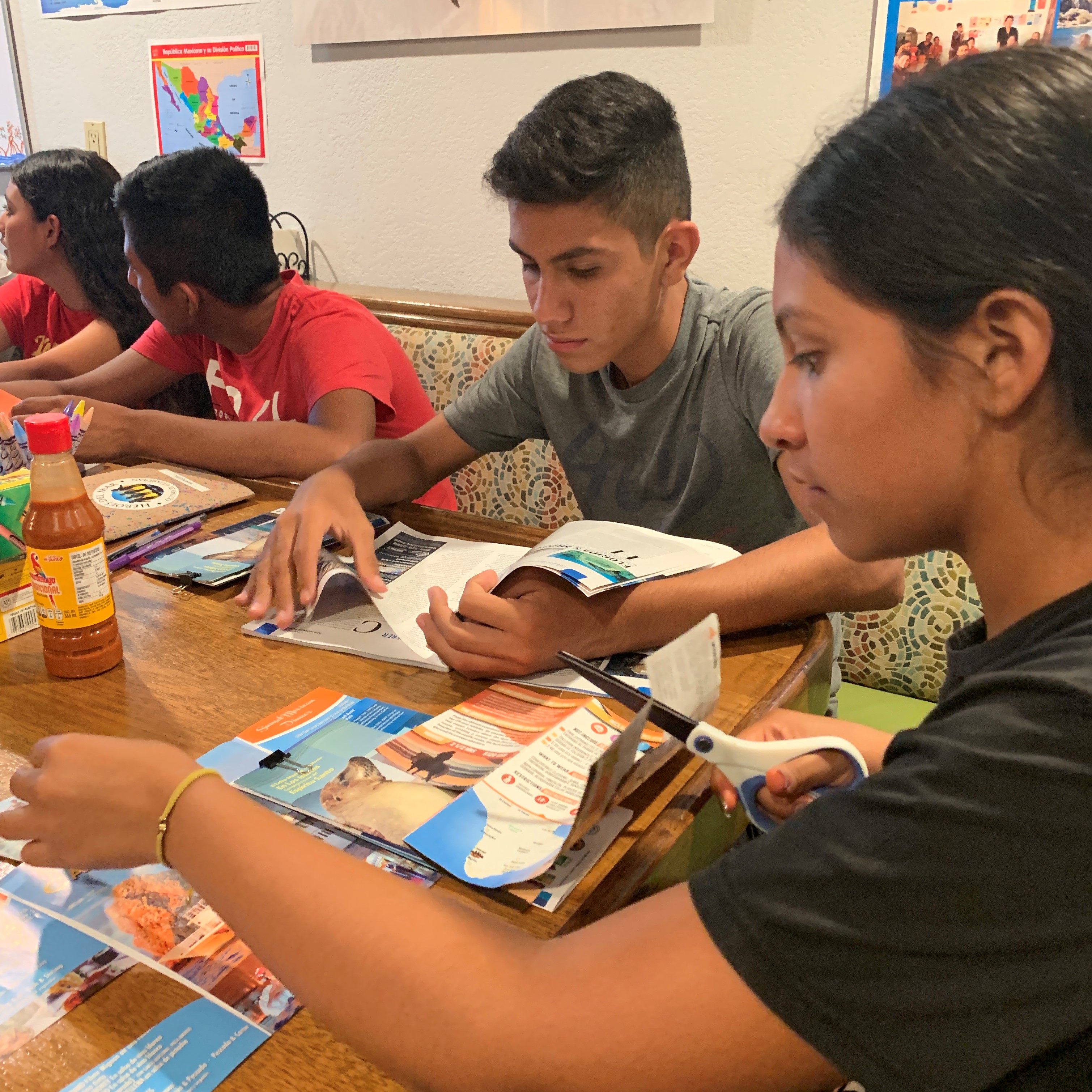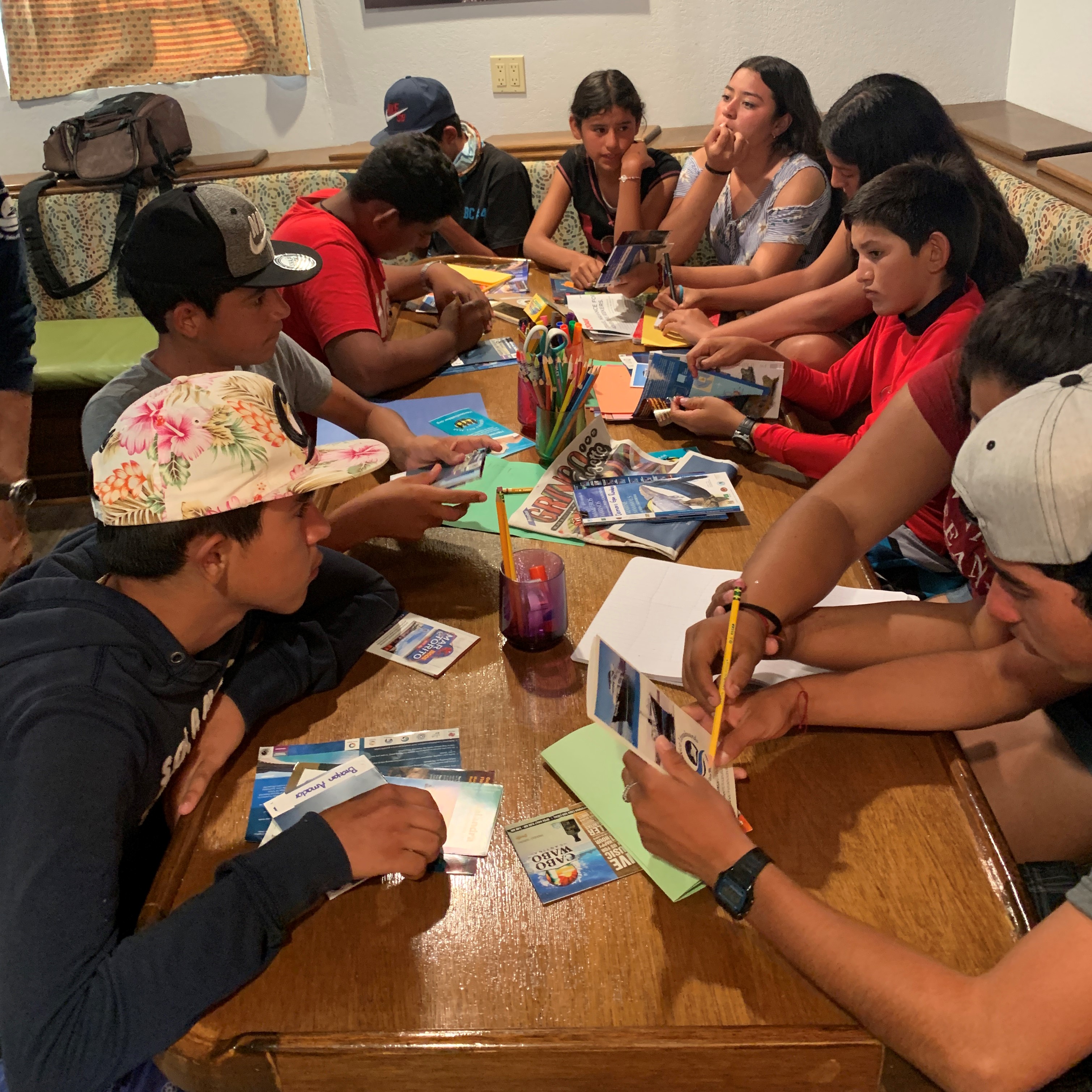 JULY 2, 2019 – DAY 3
San Francisquito Island, Estero of San José Island,  EL Pardito Island
We went on another hike early in the morning.  At the very top of the island, we had to walk in a single file because the path was so narrow where we had an incredible view on both sides of Archipielago de Espíritu Santo.  We could see all of the islands.  Then as we walked, there was a wall on the east side that was sheer and it was green, like phosphorite, with green vegetation, green water … it was beautiful.
Everywhere we went, the kids were always singing.  There was music all the time.
The kids had a second lesson on the field notebooks and then Paulo (the scientist) did a presentation on the mangroves showing them how to identify the different types.
We went for a snorkel in the mangroves so the kids could put to use when they just learned.  Paulo would ask them questions like, "What kind of leaves are these".   The mangroves are amazing and so important to the ecology as they are the nurseries of the world.  This is where everything goes to spawn.  The kids really enjoyed seeing all of the tiny fish.
Next, we went to a little island and it has 7 little houses on it inhabited by a big family (mom, dad, uncle, kids, etc.).  This family takes care of a reserve that is a no-take zone.  We went there to go snorkeling and we broke the kids into four groups.  In each group, we made one kid the "snorkel-master" and they had to give a briefing on the dive including showing the kids what they needed to do to do a backroll off the panga.   One of the kids was especially impressive with his briefing.  He explained to the other kids that they needed to stay away from a large rock because the current is strong.  He was absolutely right.  Some areas the kids may be ignorant but they know the ocean.  It was impressive how he could read the currents.
Another snorkel-master volunteer was one of the girls that originally didn't know how to swim.  It turned out that she did know how to swim and was just really insecure.  She was selected for the program because she expressed herself so well during her interview, was smart and her grades were excellent.  She just bloomed that week.
The kids had the night off and watched the movie, "Coco".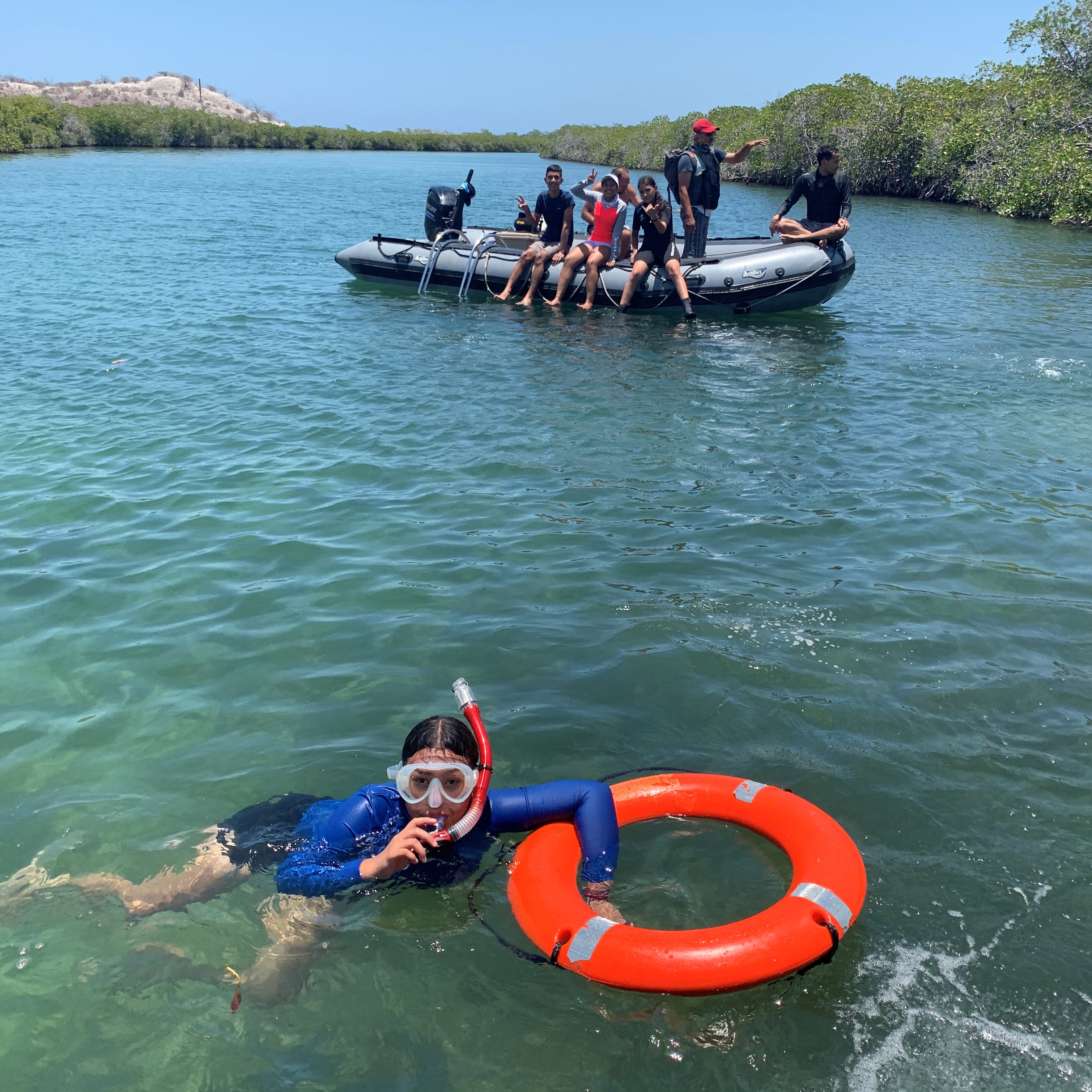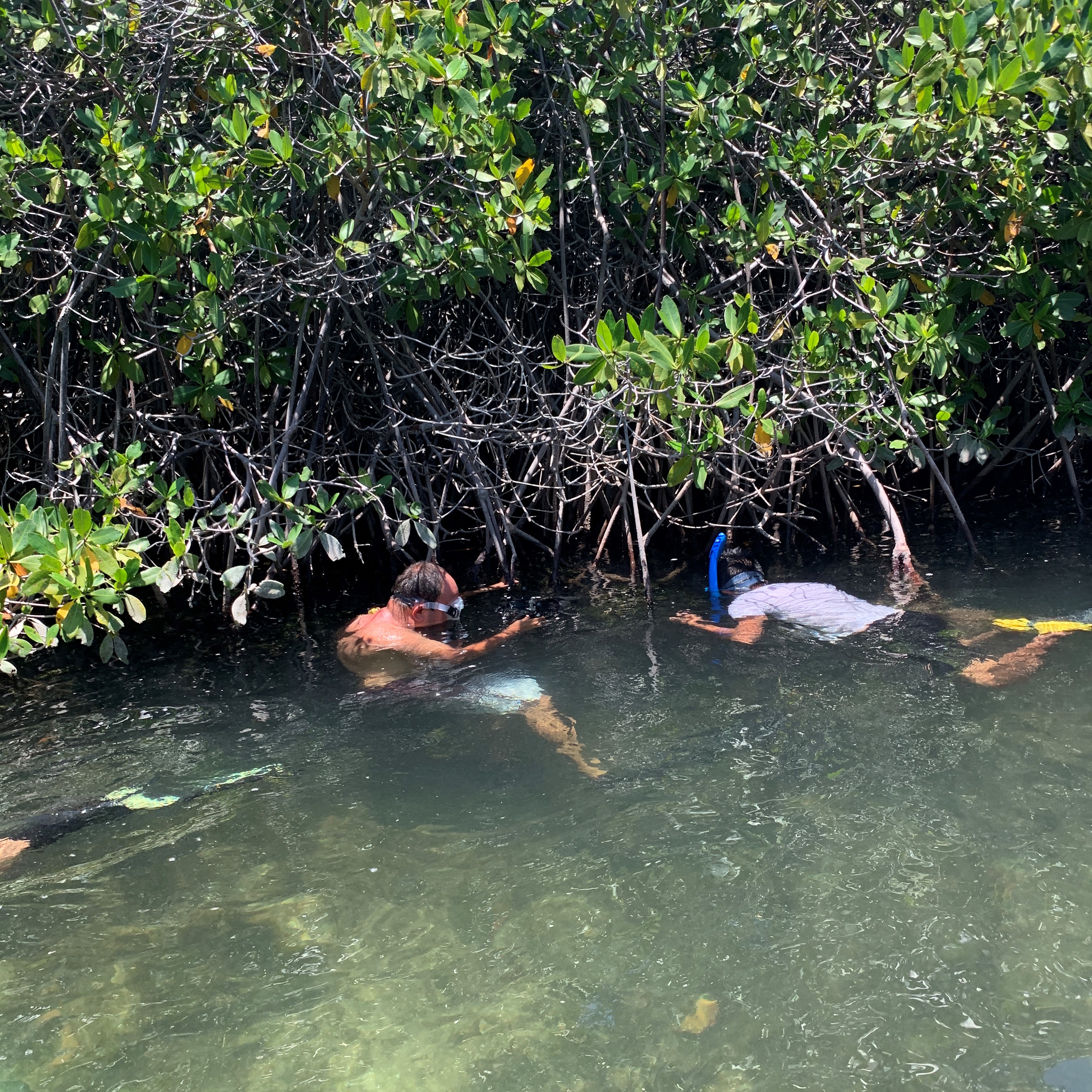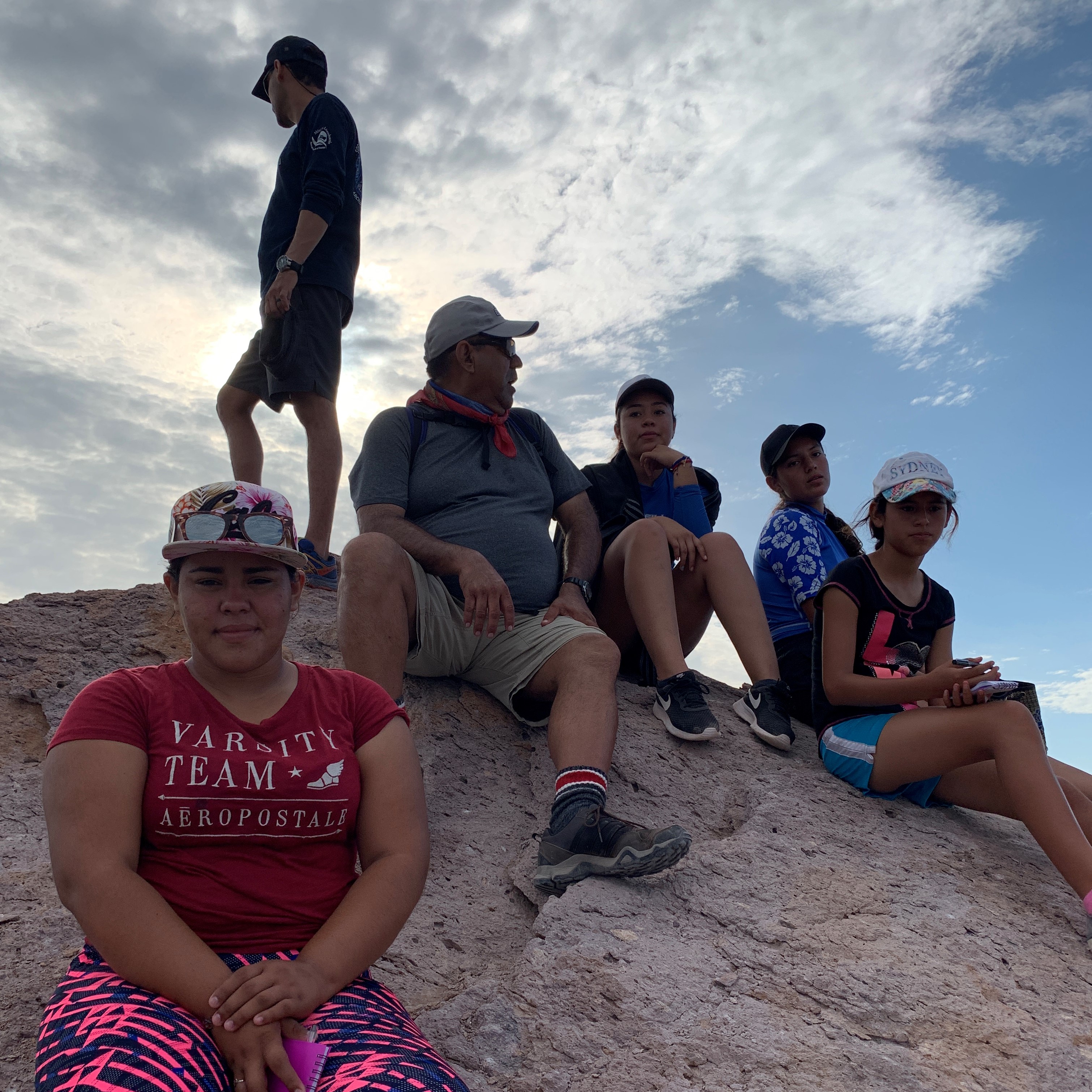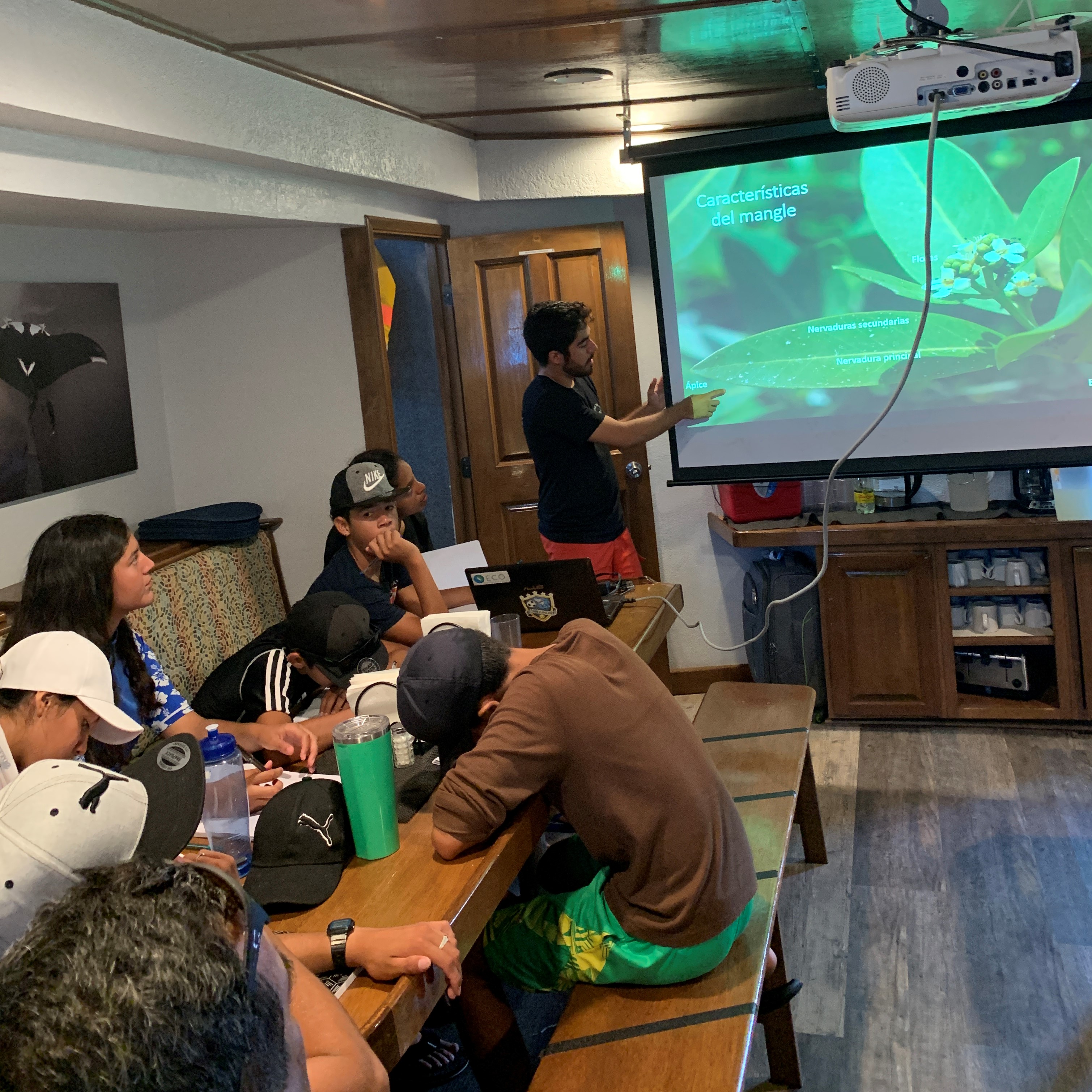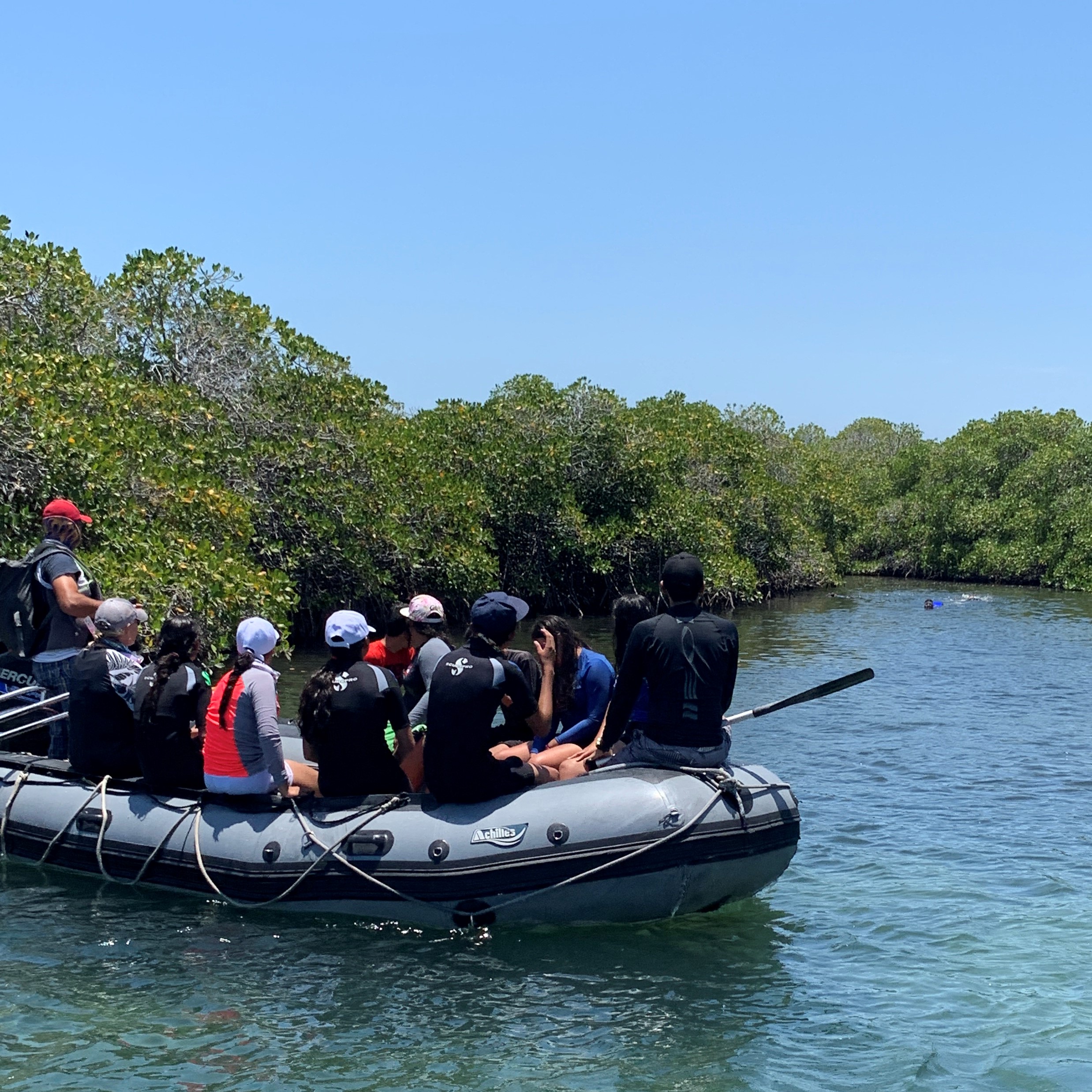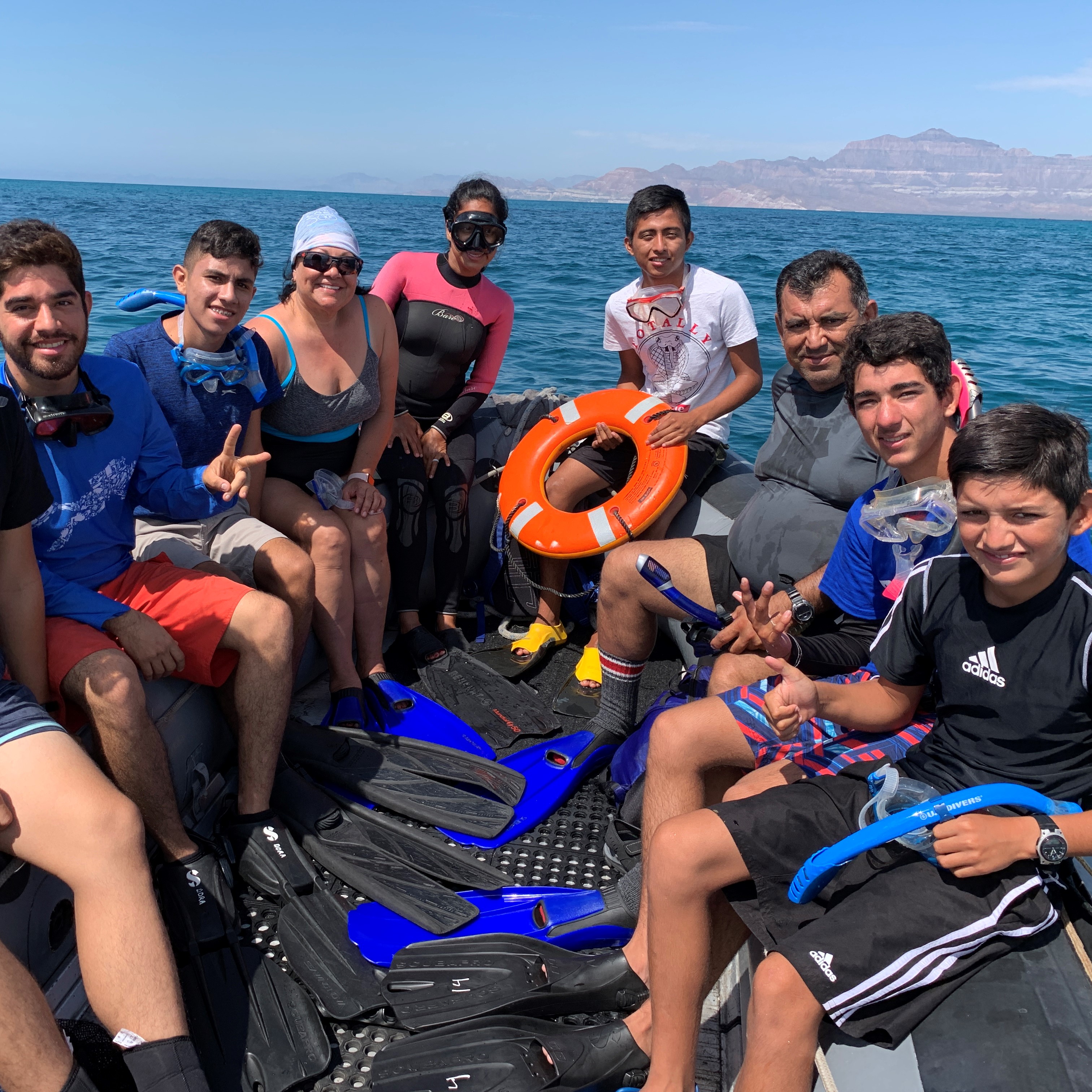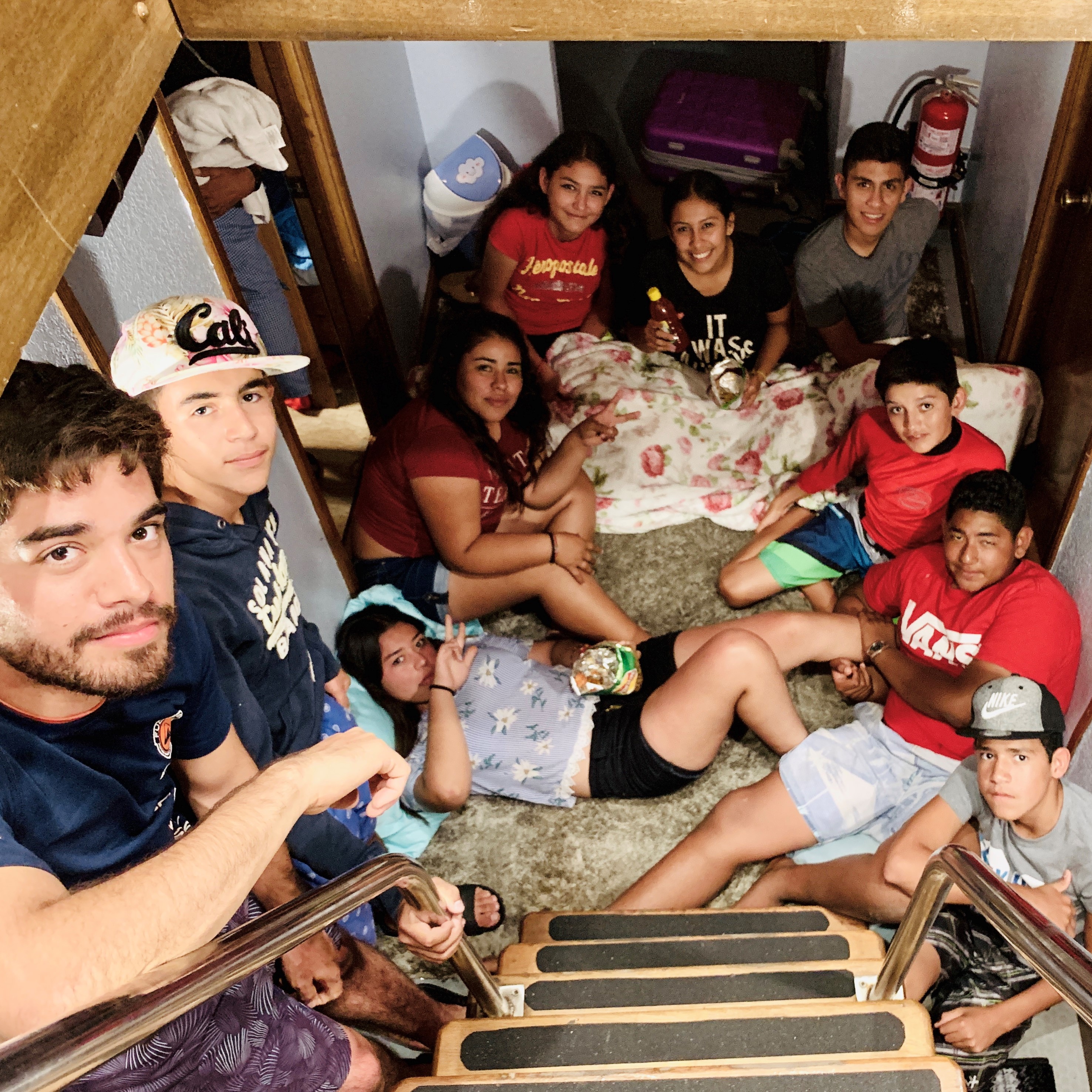 JULY 3, 2019 – DAY 4
Carmen Island and Geology Day!
We were so fortunate to have a geologist come on board early in the morning, Dr. Gerardo
Gonzalez Barba.  The kids were really excited to meet him and bombarded him with questions.  Gerardo did a presentation and then we visited three different sites on Carmen Island to see fossils.
On the way back to the boat in the pangas, we came across hundreds of dolphins in crystal clear blue water.  The kids were enthralled and we followed them for a couple of hours. 
This day, during Michael's economy class, we discussed budgets and income.  The kids said that most of them don't have any income.  Michael explained that yes, you do.  Your income includes the clothes you wear, your school supplies, whatever money your parents give you for snacks … all of that is income.  He was able to break it down so that the kids were able to really understand the value of money.   
After class, went had more fun snorkeling and we pulled the kids on innertubes with the pangas. 
After dinner, we had another geology presentation and then many of the kids wanted to ride with Geraldo on the panga back to Loreto.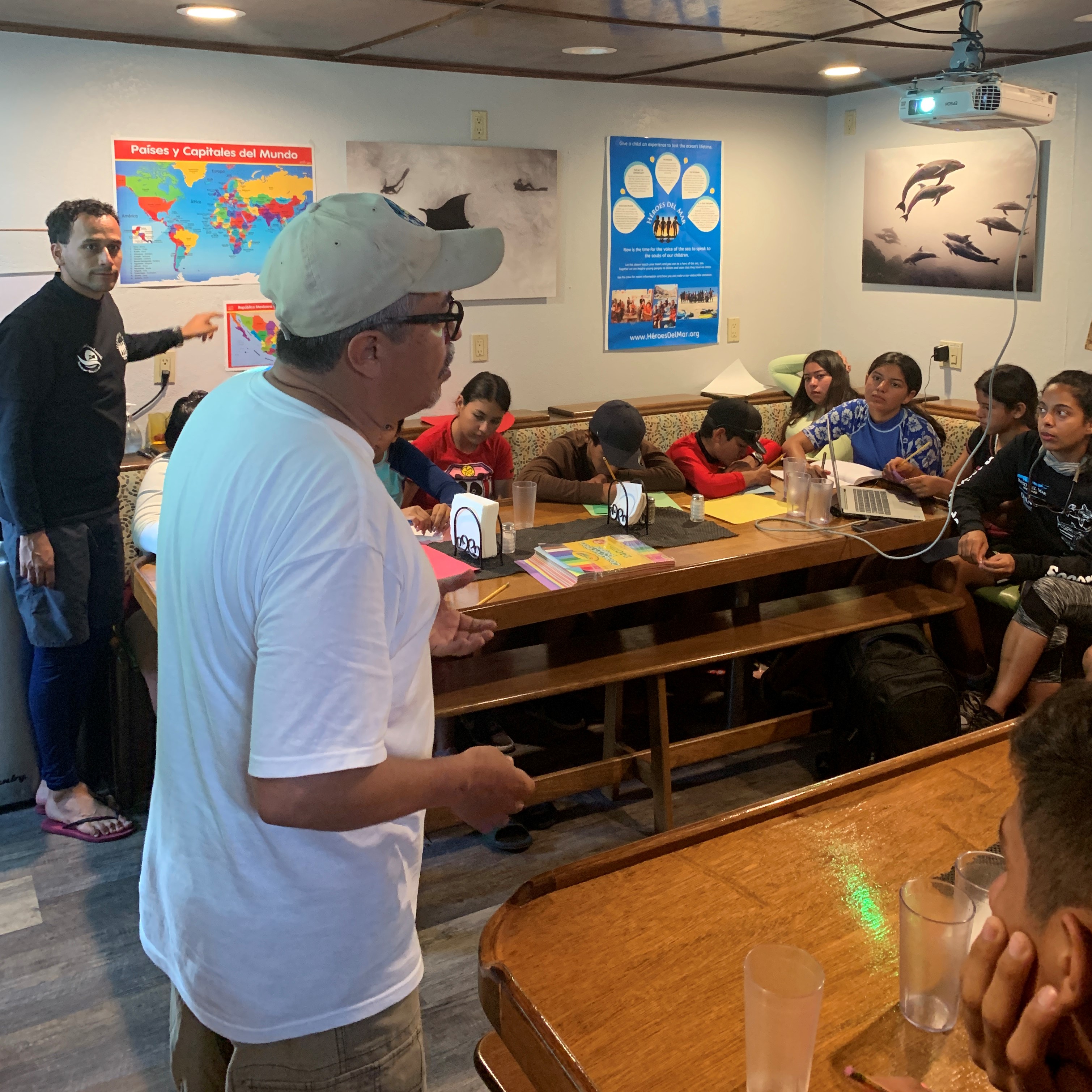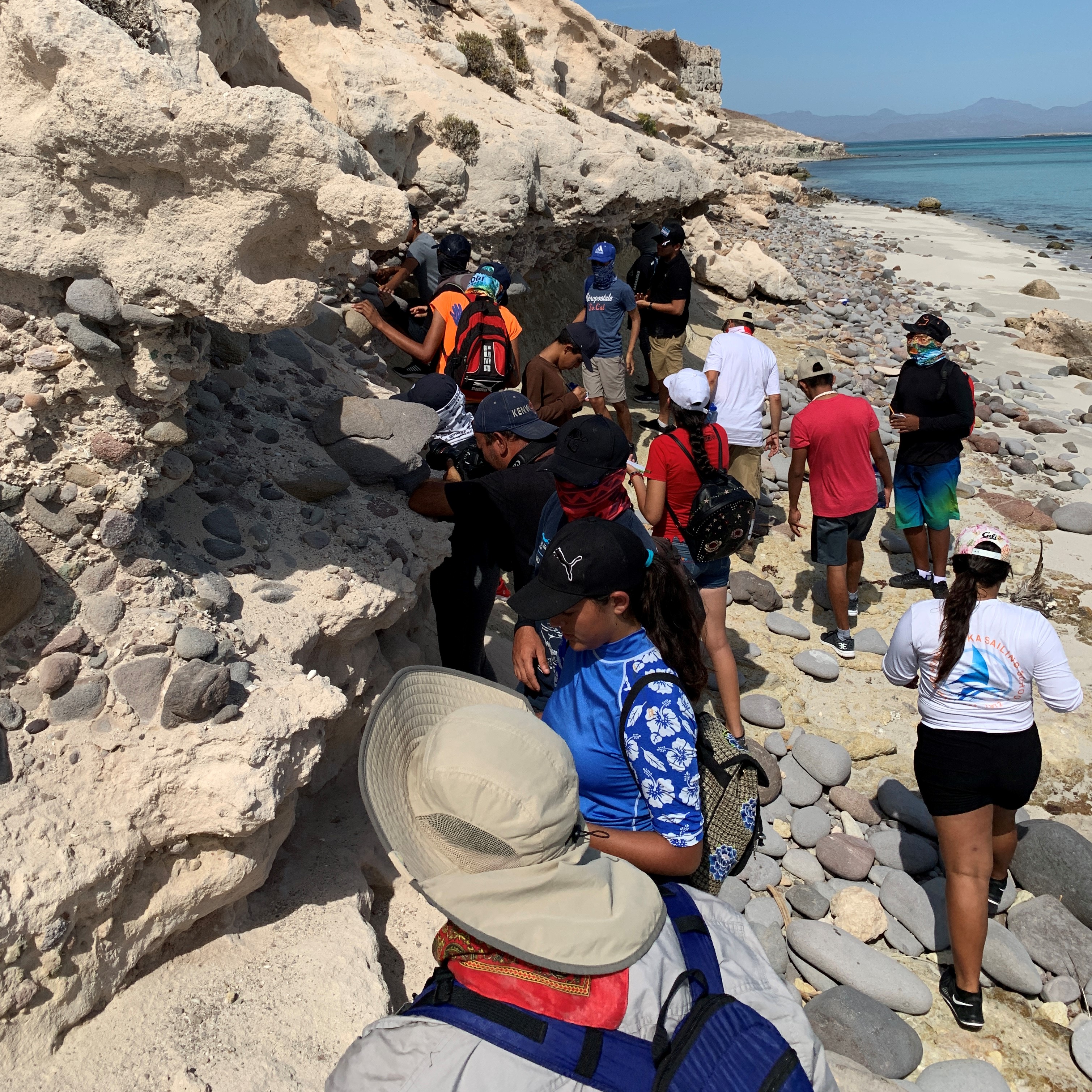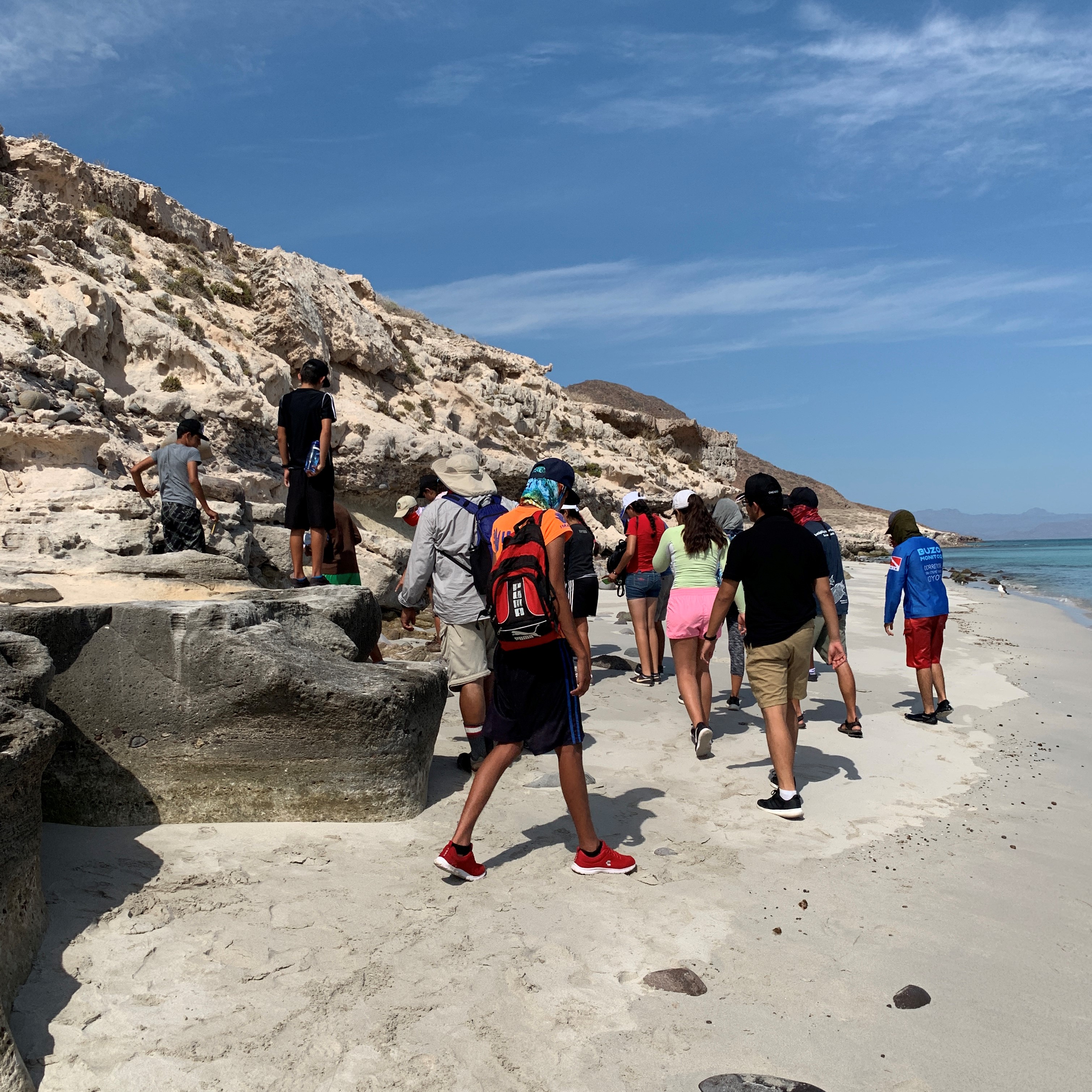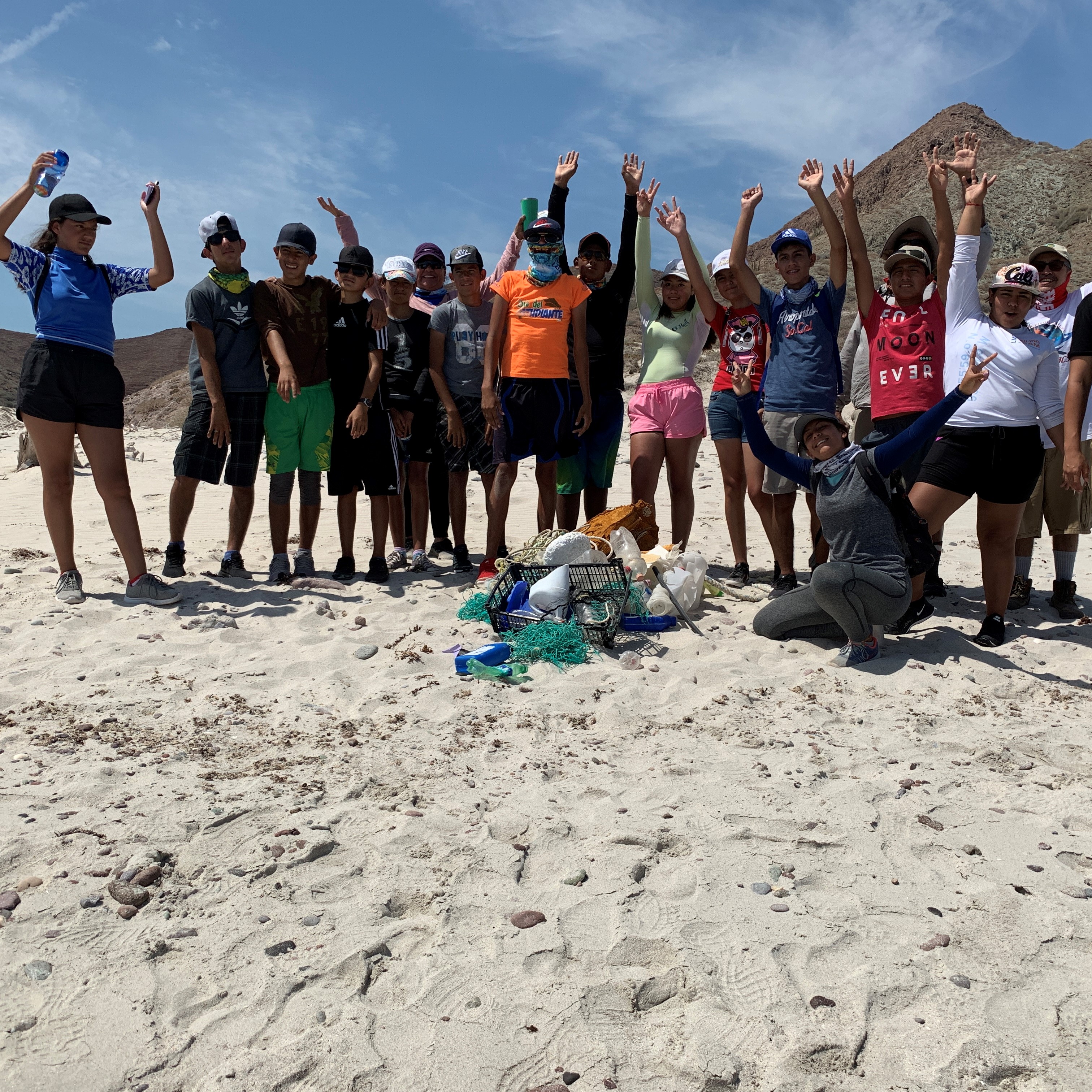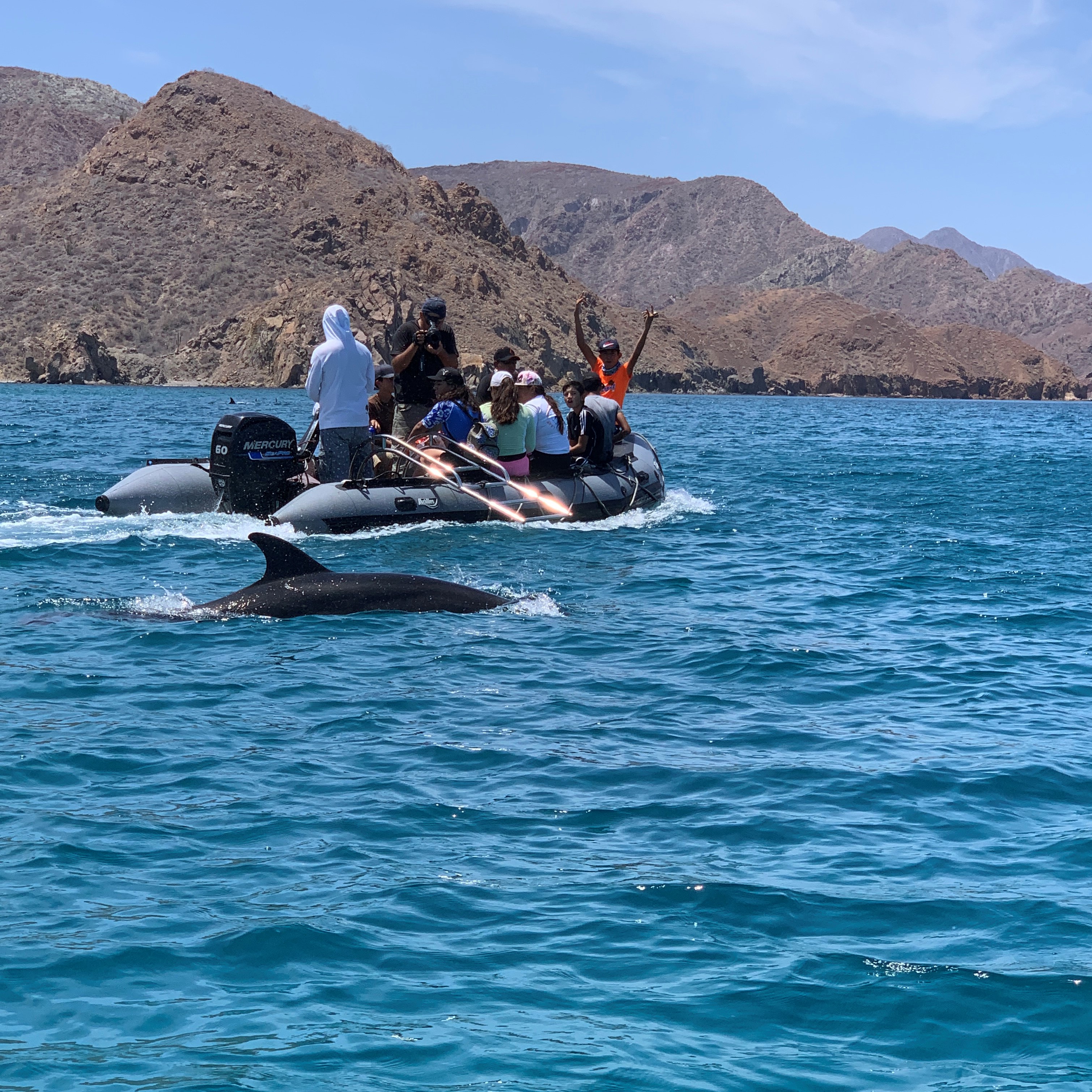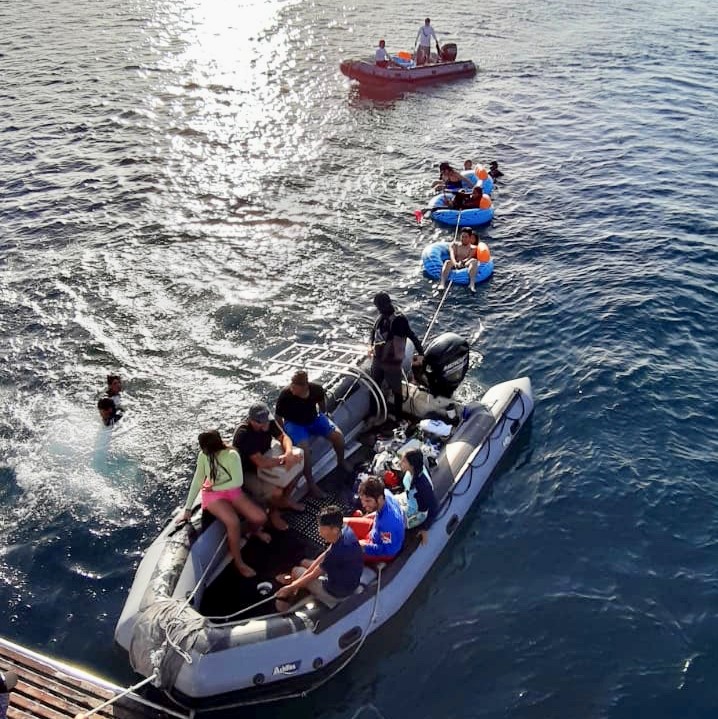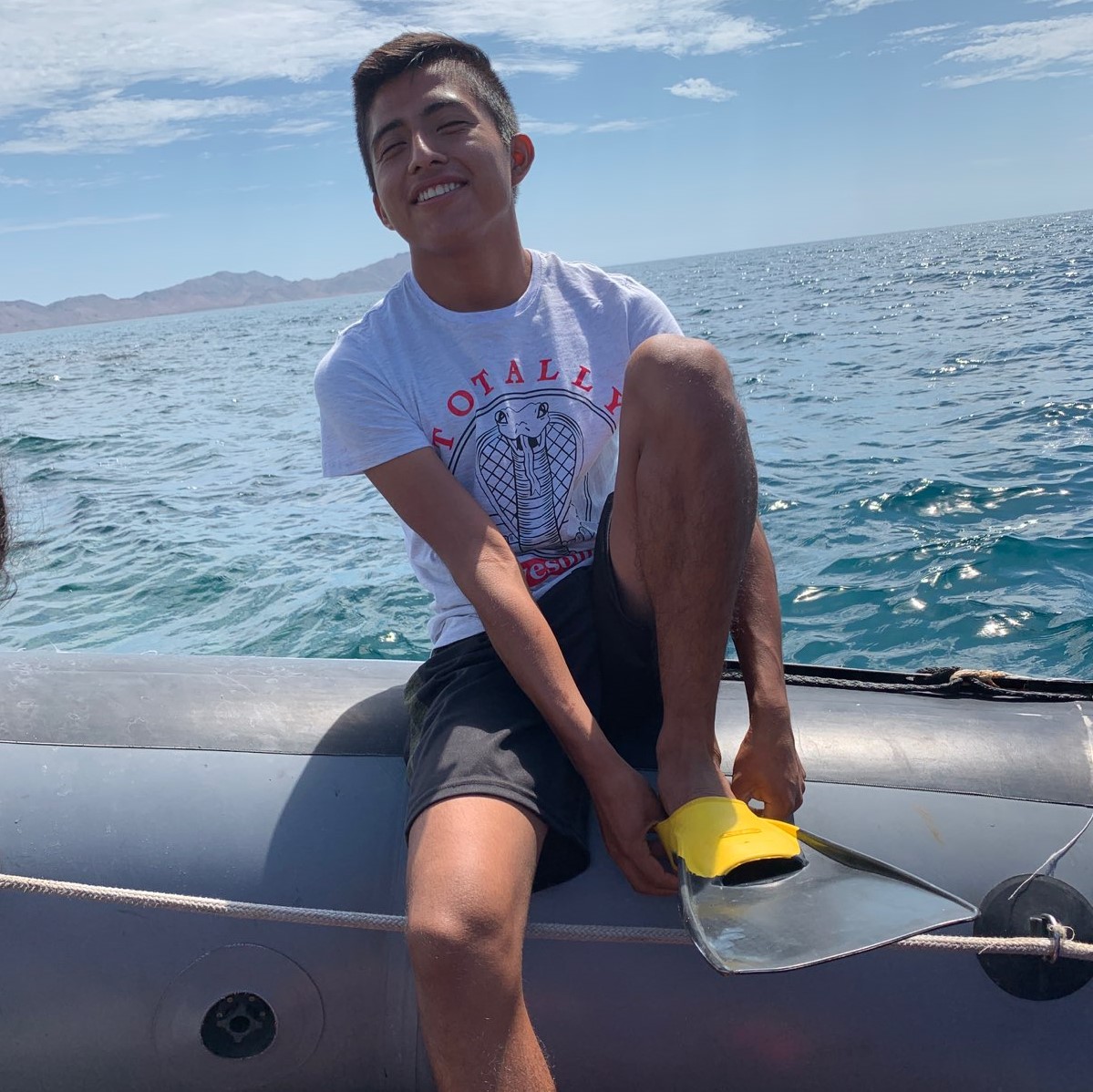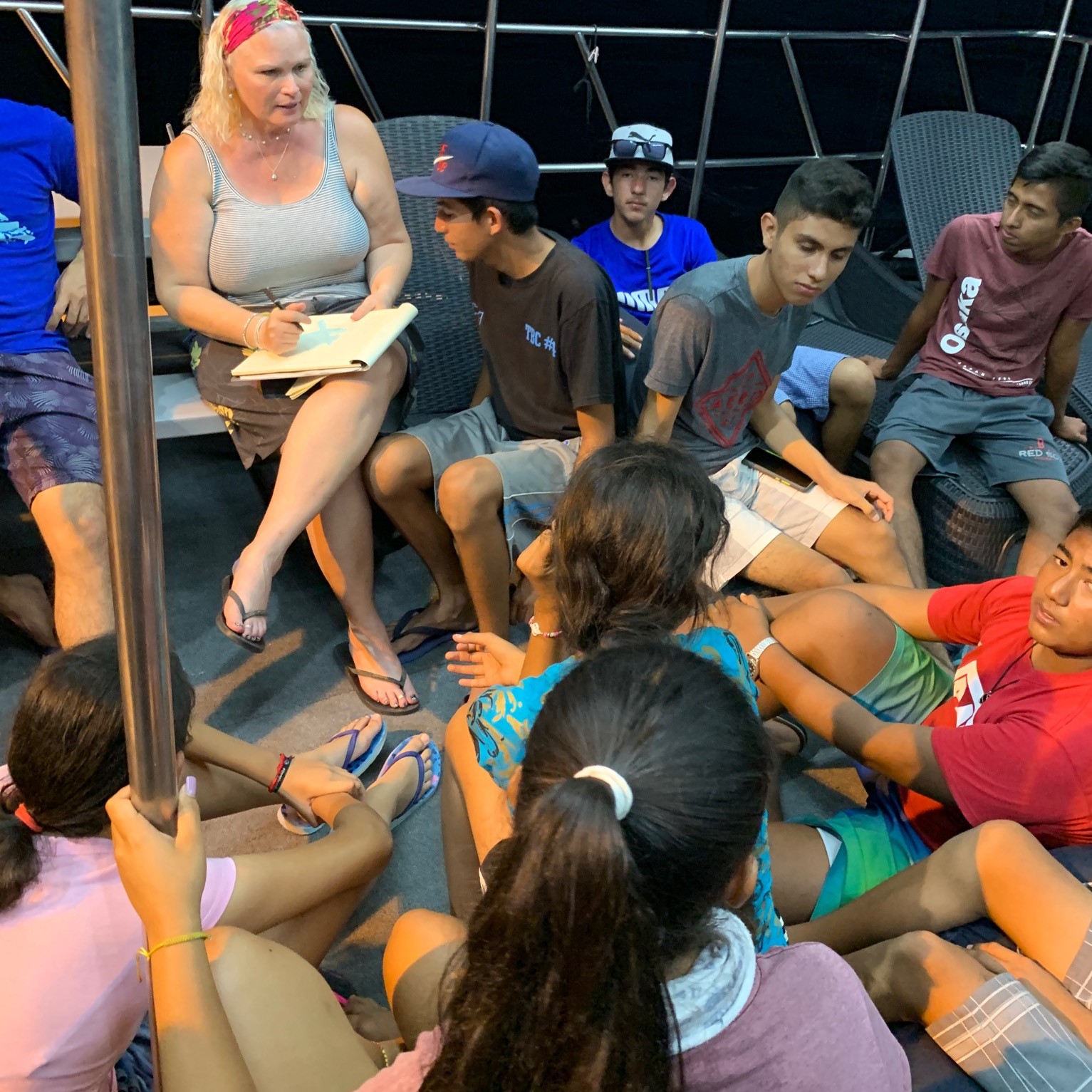 JULY 4, 2019 – DAY 5
San Josè Island
We went on a morning hike of Honeymoon Cove which is absolutely gorgeous.  We looked at the plants and rock formations. 
Luis Jiménez Rios, one of Quino's amazing divemasters, certified the kids as first responders.  This wasn't an hour class like many of us may have done.  This class took days and was very intensive.  Luis gave them theory, how to do a splint, how to handle bleeding and even CPR. 
Later we went kayaking which was hilarious as most of them had never kayaked before.  More new experiences!
This day we assigned them a new project where two kids were assigned to a crewmember.  This project included the kids working alongside their crewmember to learn about their job, what they do, who they are, where they came from and even what would they have done if they didn't have the job they did.  For example, Edgar Gonzalez, another divemaster, taught one of the kids how to clean and replace a valve on a scuba tank.  Two kids worked with Jorge Pamplona, Quino's chef, in the kitchen.  One of the kids worked with Edgar Reyes (aka Pollo) the steward, and two kids worked with Captain Julio.  At the end of the week the project was to do a presentation – any type of presentation they wanted – to share what they learned about their crewmember.  The goal was to make what these people did tangible to the kids and for the kids to learn that they could be divemasters, chefs, boat captains or anything they wanted to be.    
We also had another economy class by Michael!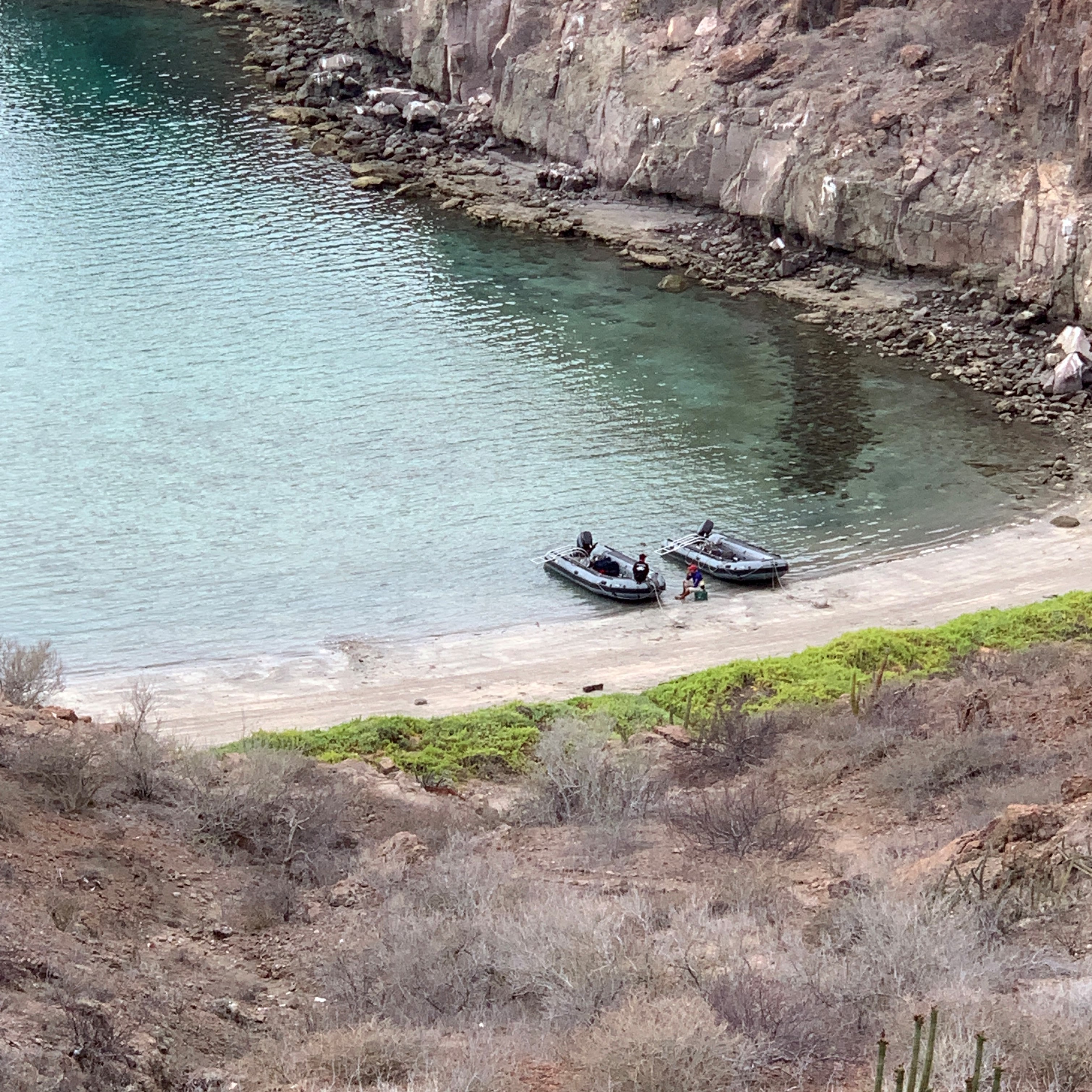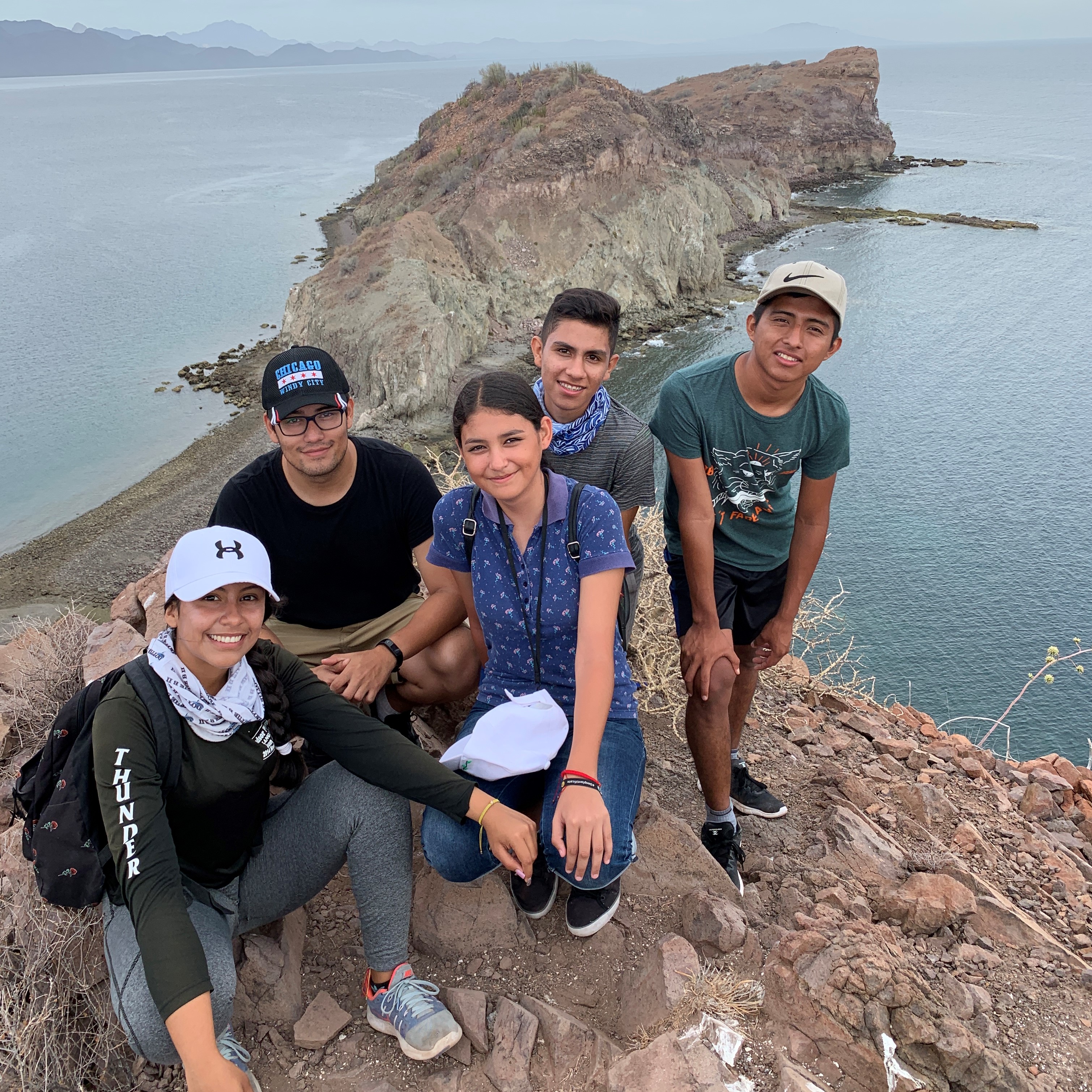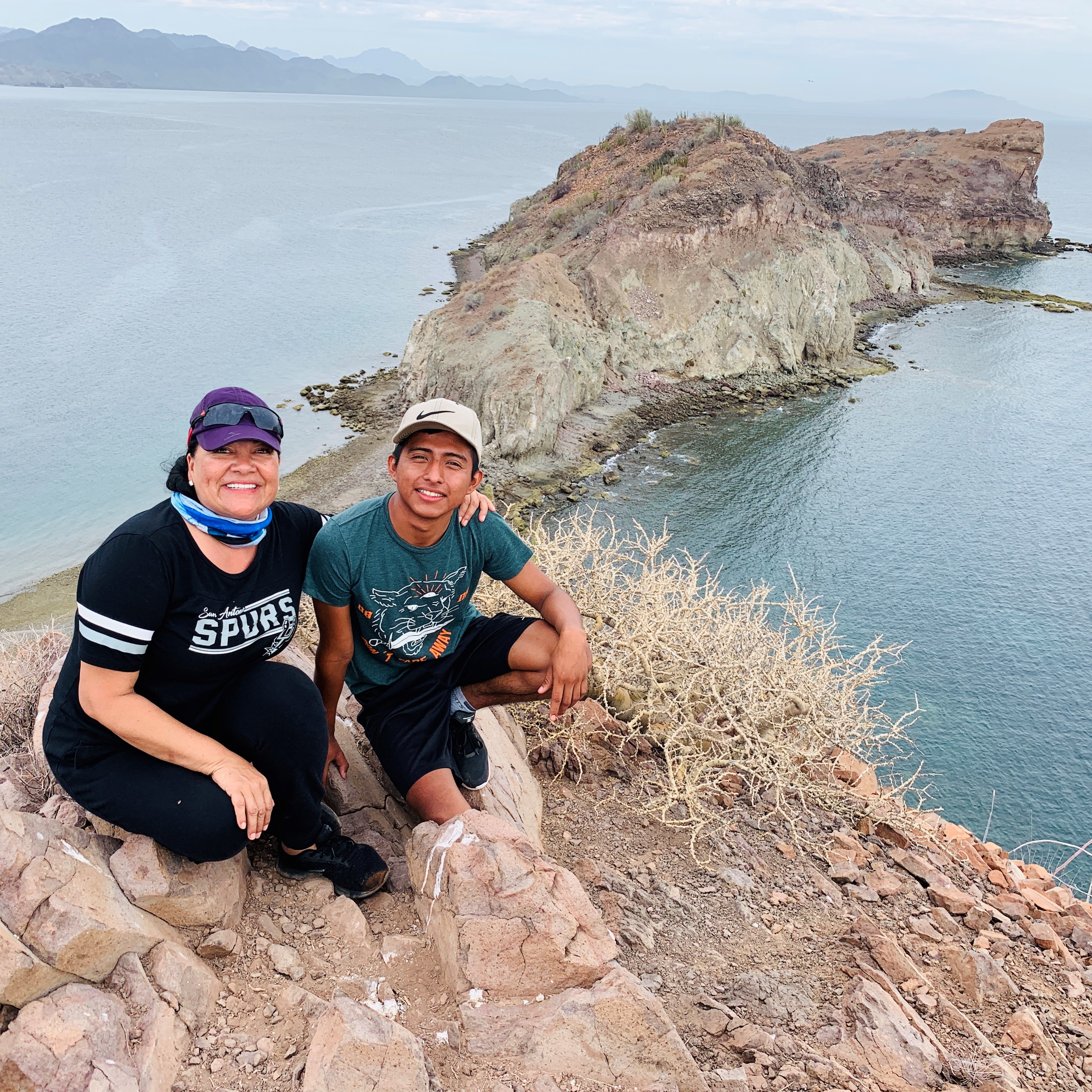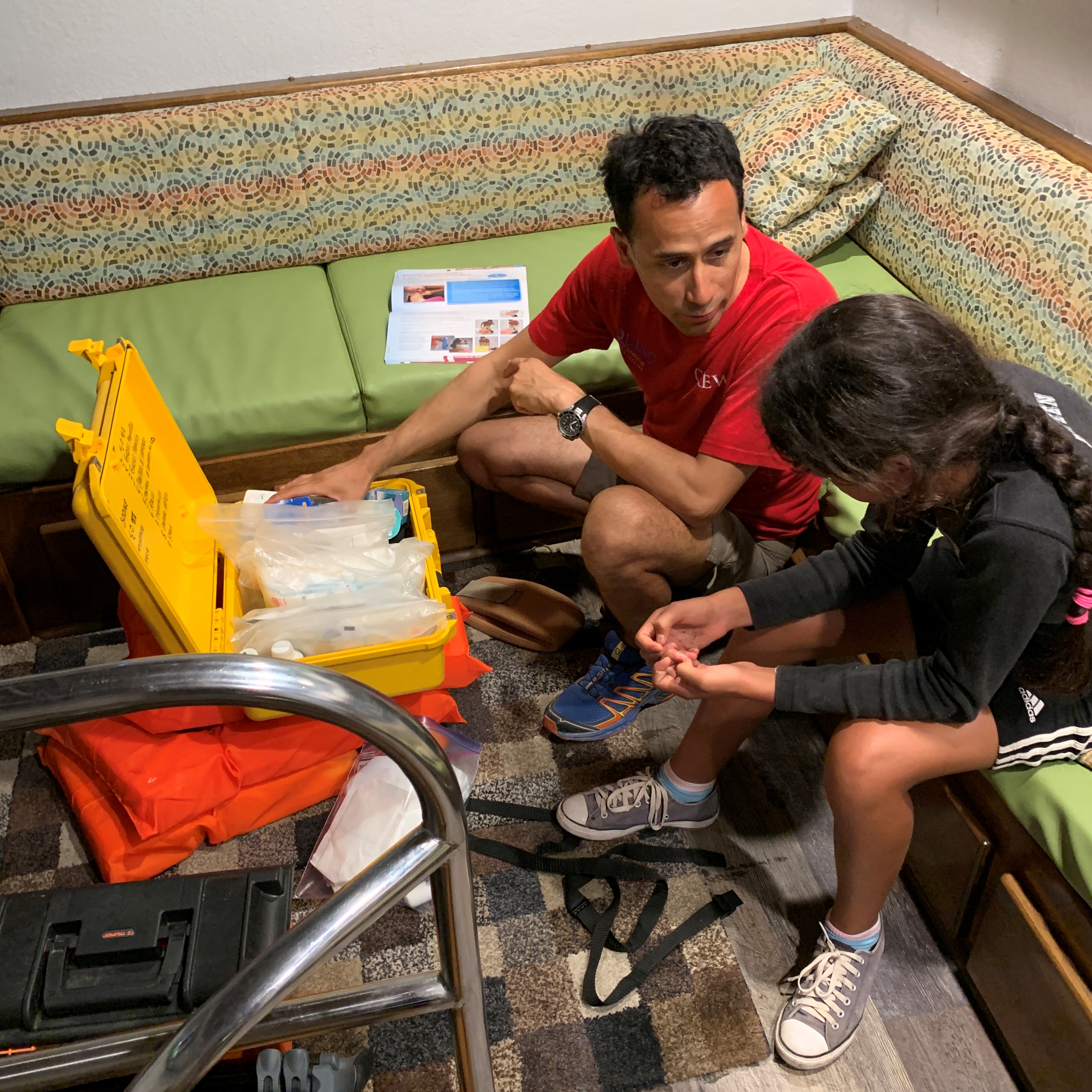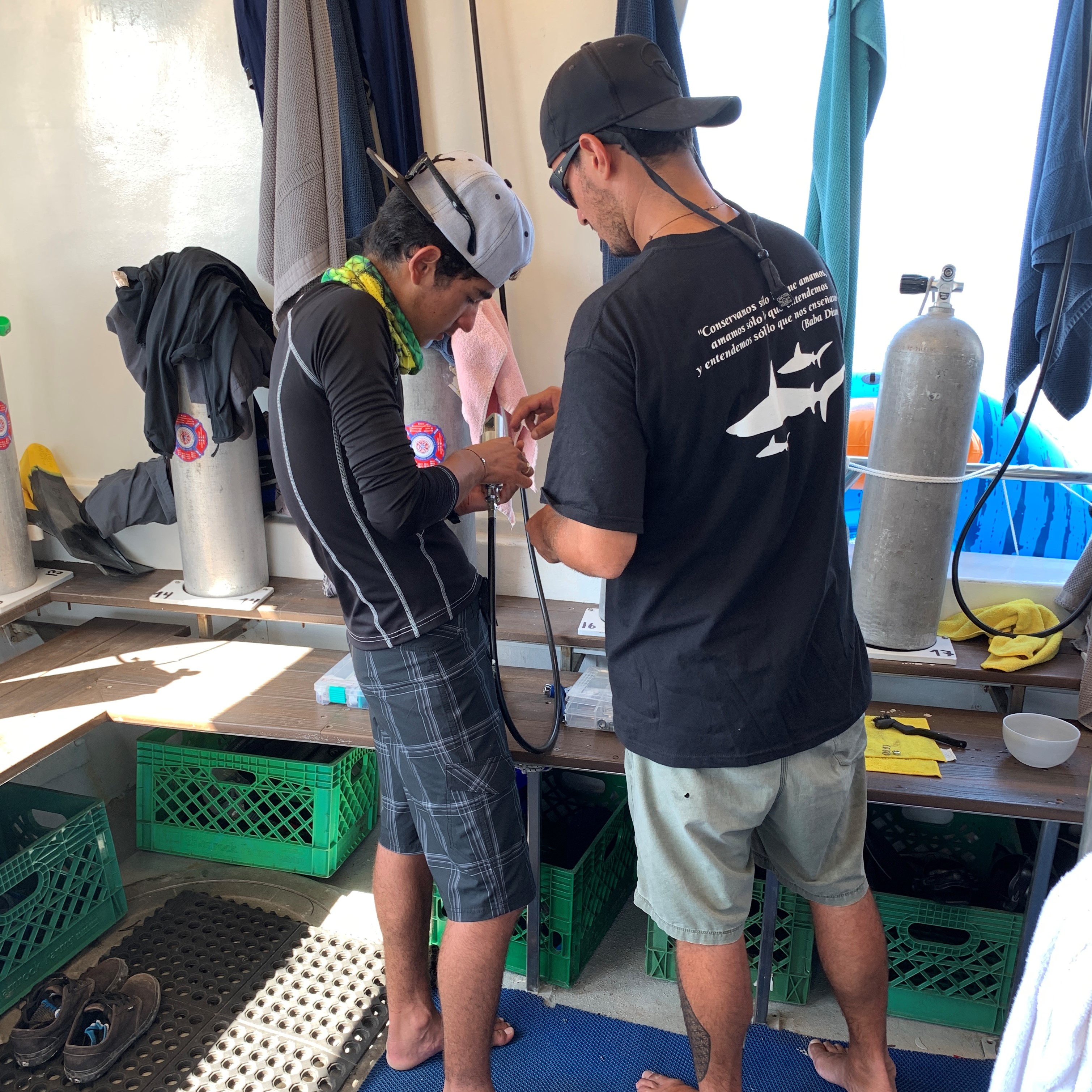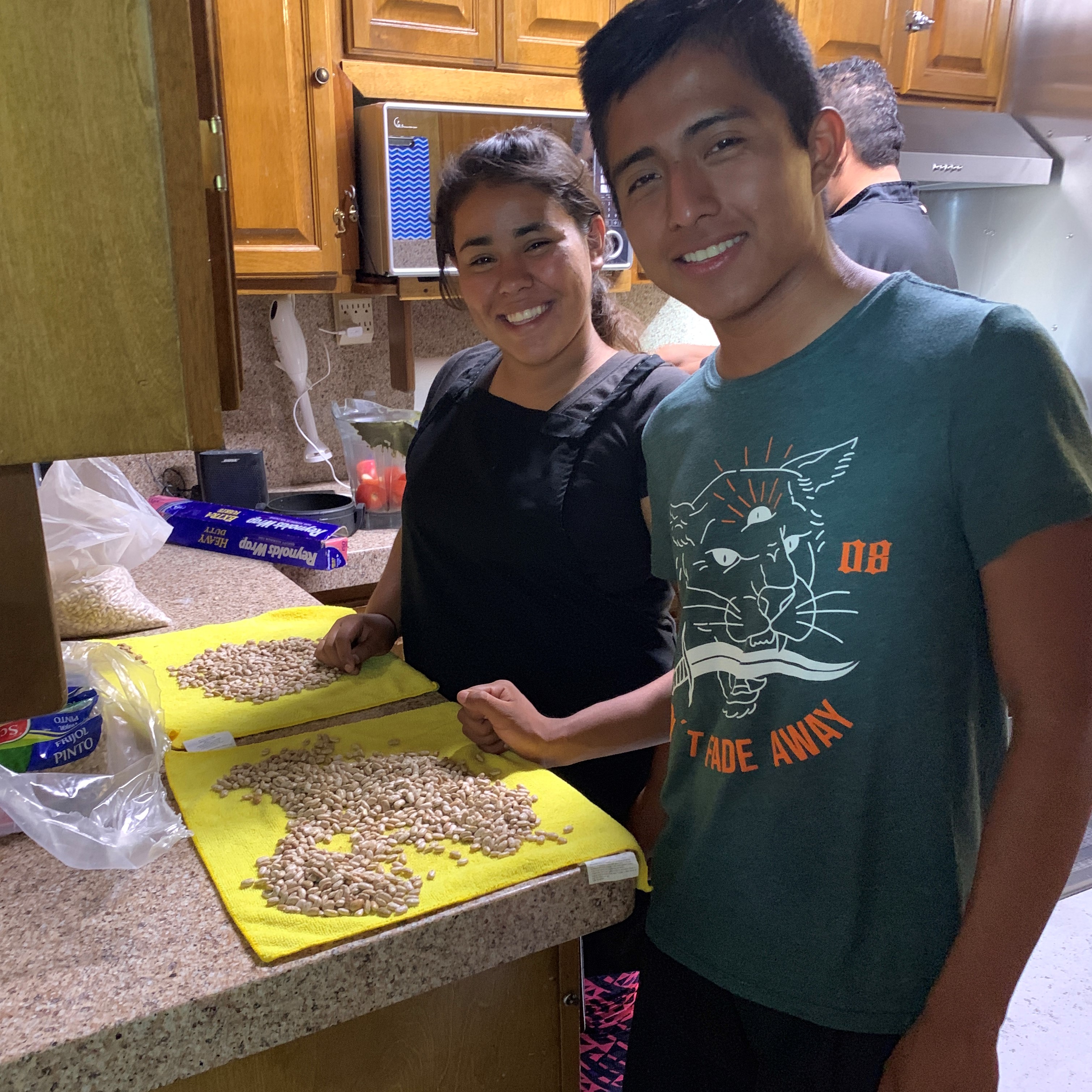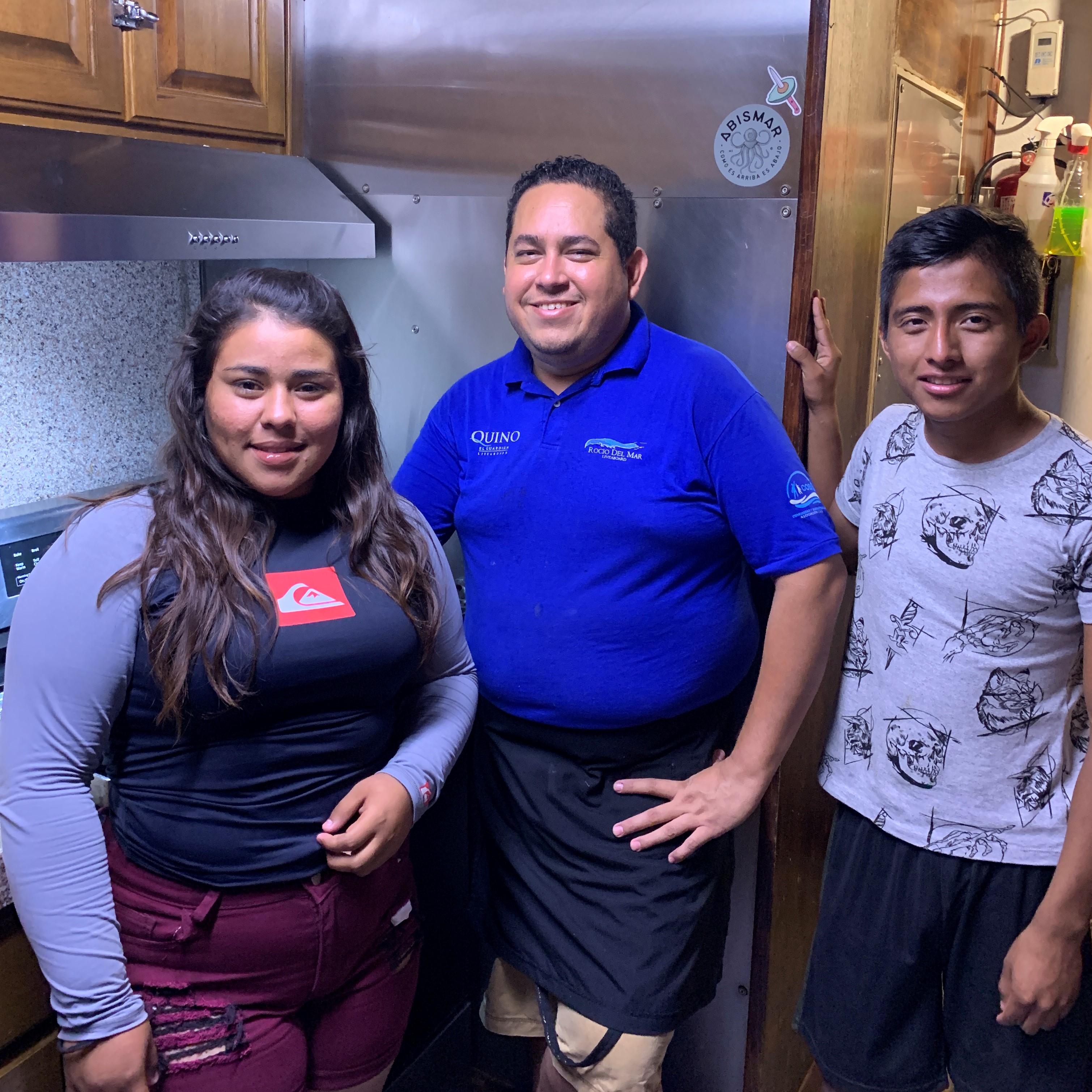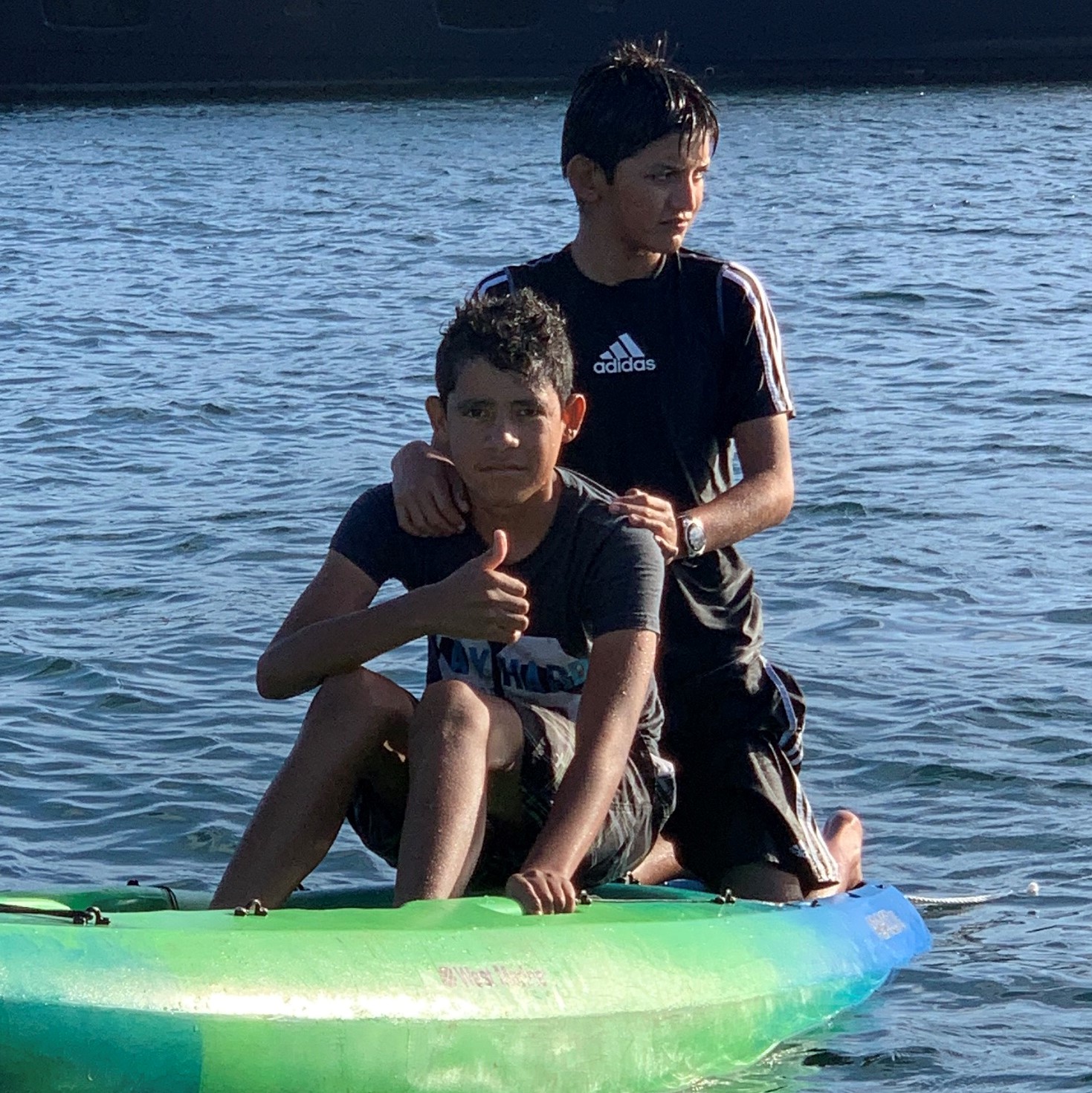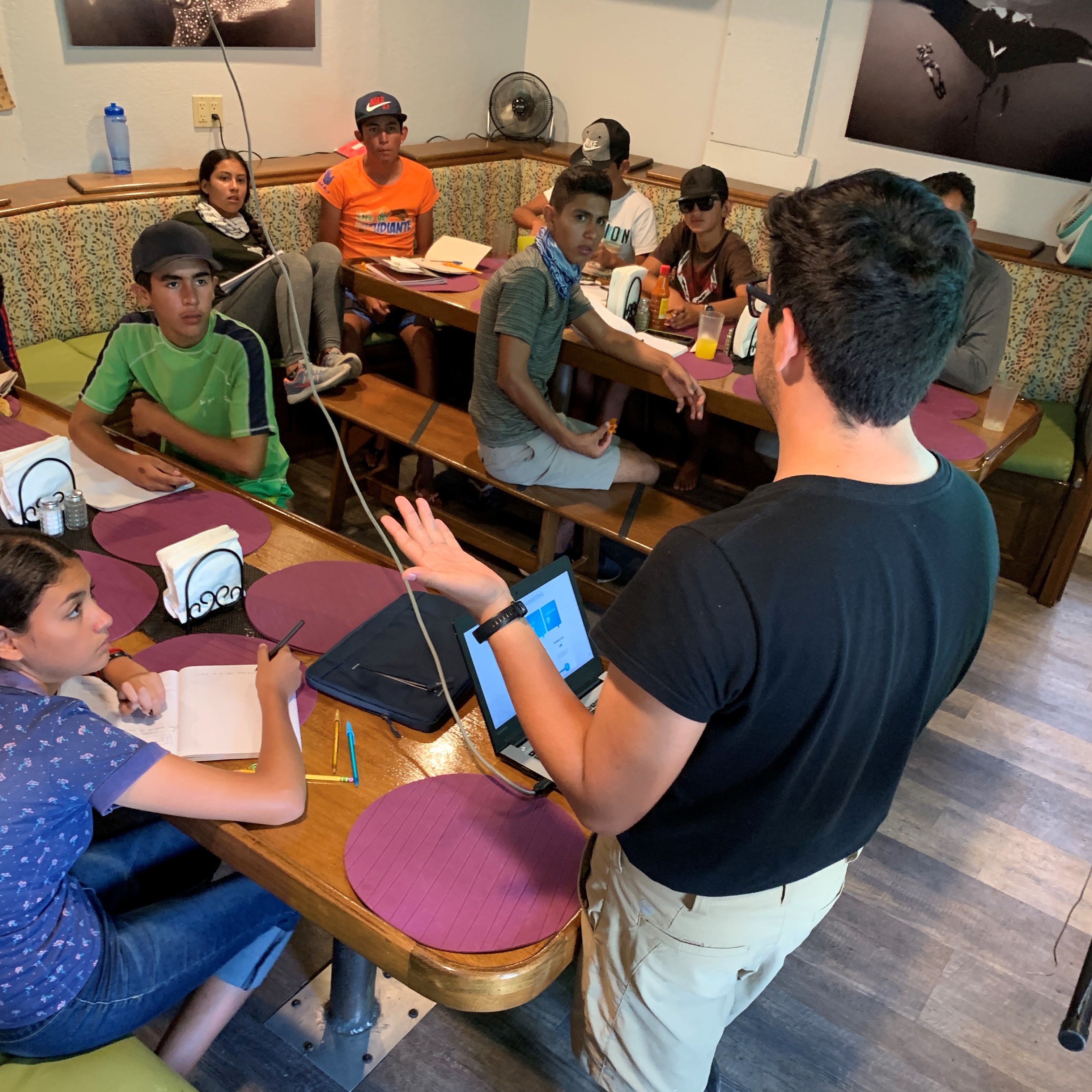 JULY 5, 2019 – DAY 6
San Jose Island
We went to San Jose island that looks completely uninhabited.  But there is a little, older man who lives there.  The kids hiked from one side of the island to the other and it took hours.  We hiked up the mountains and it was beautiful.  When we got to the end of the island, there was a community there – a large family with six houses.  This family takes care of sea turtles.  When the turtles lay their eggs, the family digs them out and keeps them safe so nobody can get to them.  They tag the eggs noting when they were buried so that they know when they will hatch and bring them close to the ocean to help them survive.  The kids learned all about this family and what they do to help conserve the sea turtles.
Also on this island were goats – more goats – and the kids got to play with them. 
A note about a special little girl.  When she came on board she was a bit of a misfit.  She had a red blanket and would take it everywhere.  She was 13 and the youngest on the trip.  In the beginning, she wasn't part of the group but, in the end, she was one of the most beloved people on the boat.   Luis (divemaster) took her under his wing.  He became her crewmember.  When she did her presentation she had her blanket … and Luis came out with a blanket, too.  It was adorable.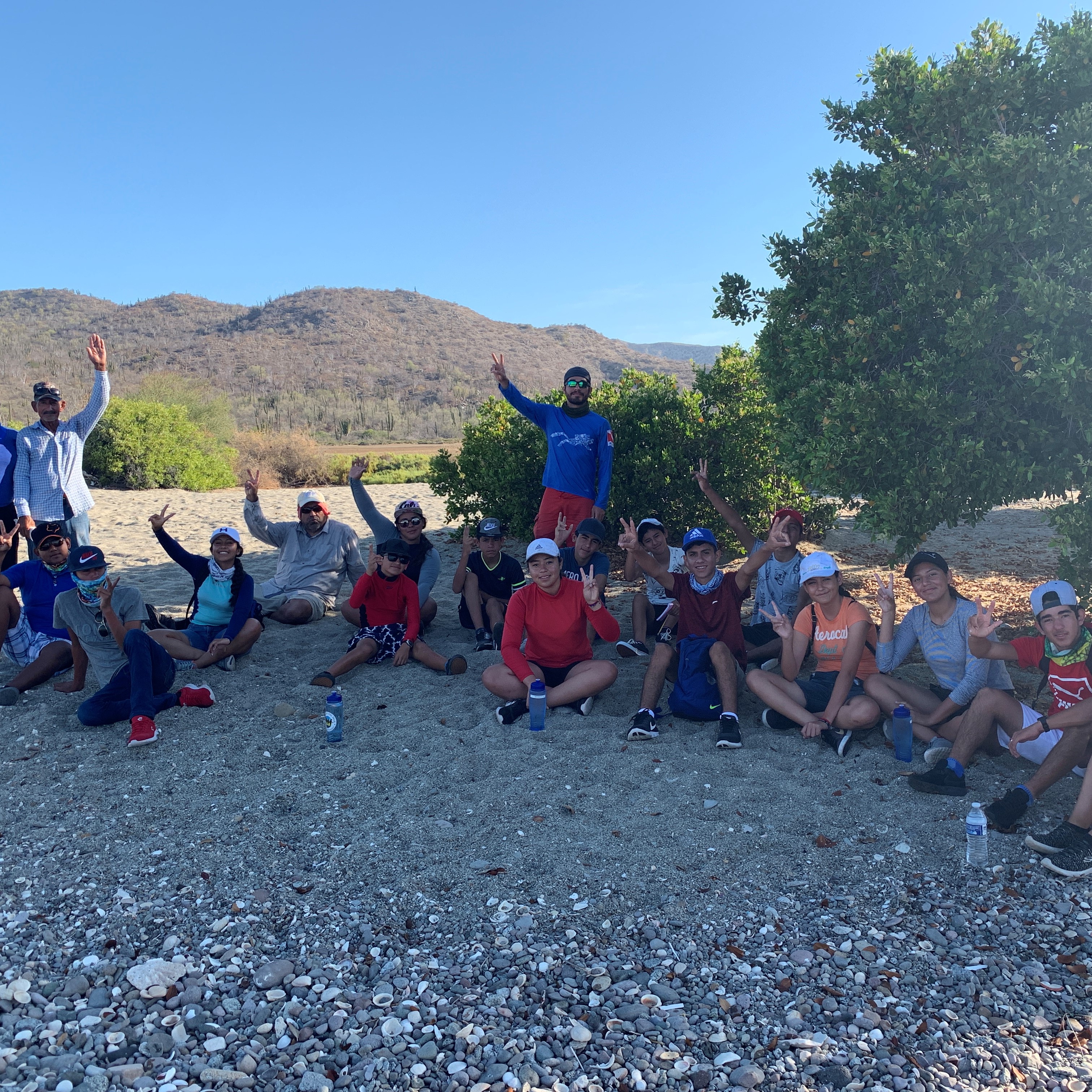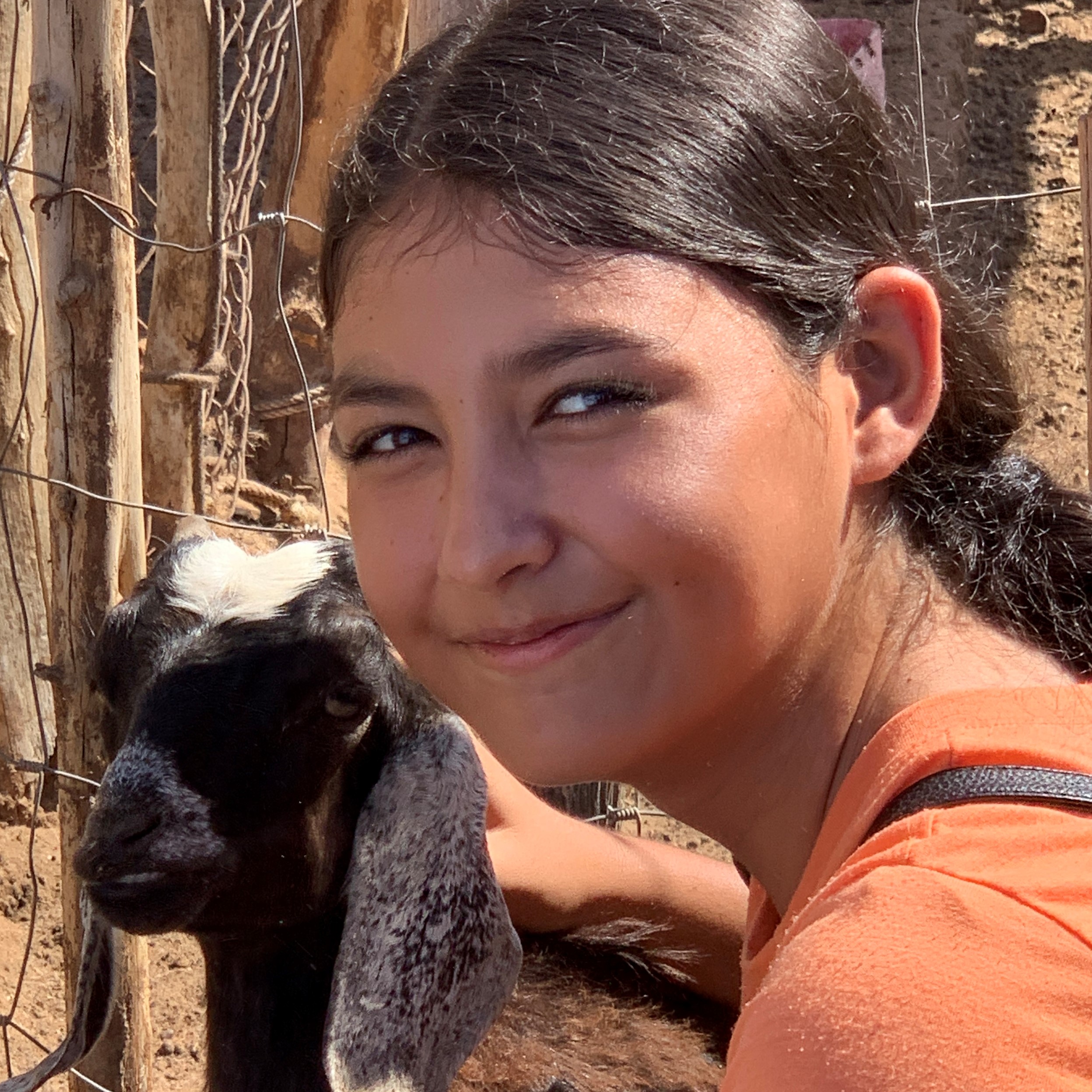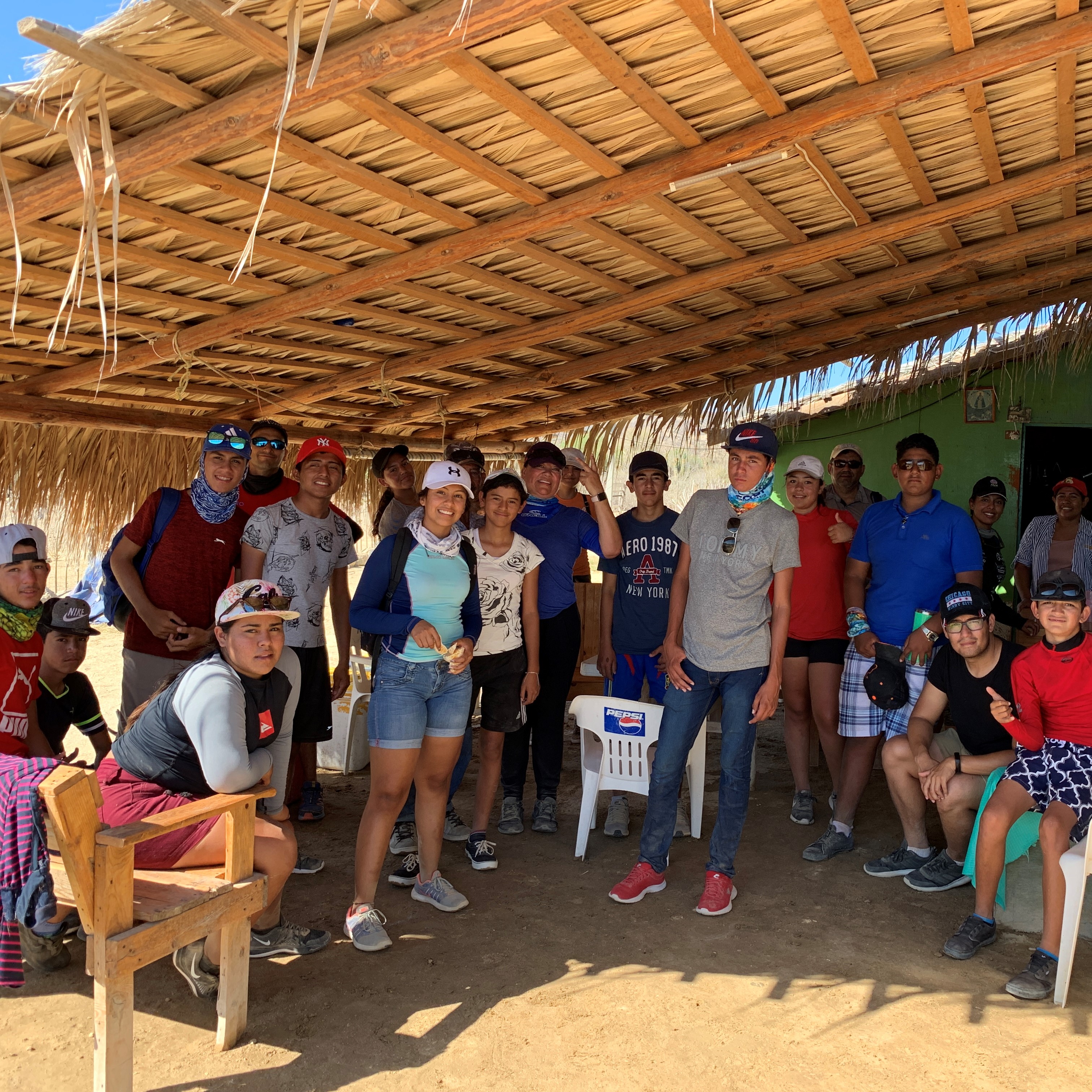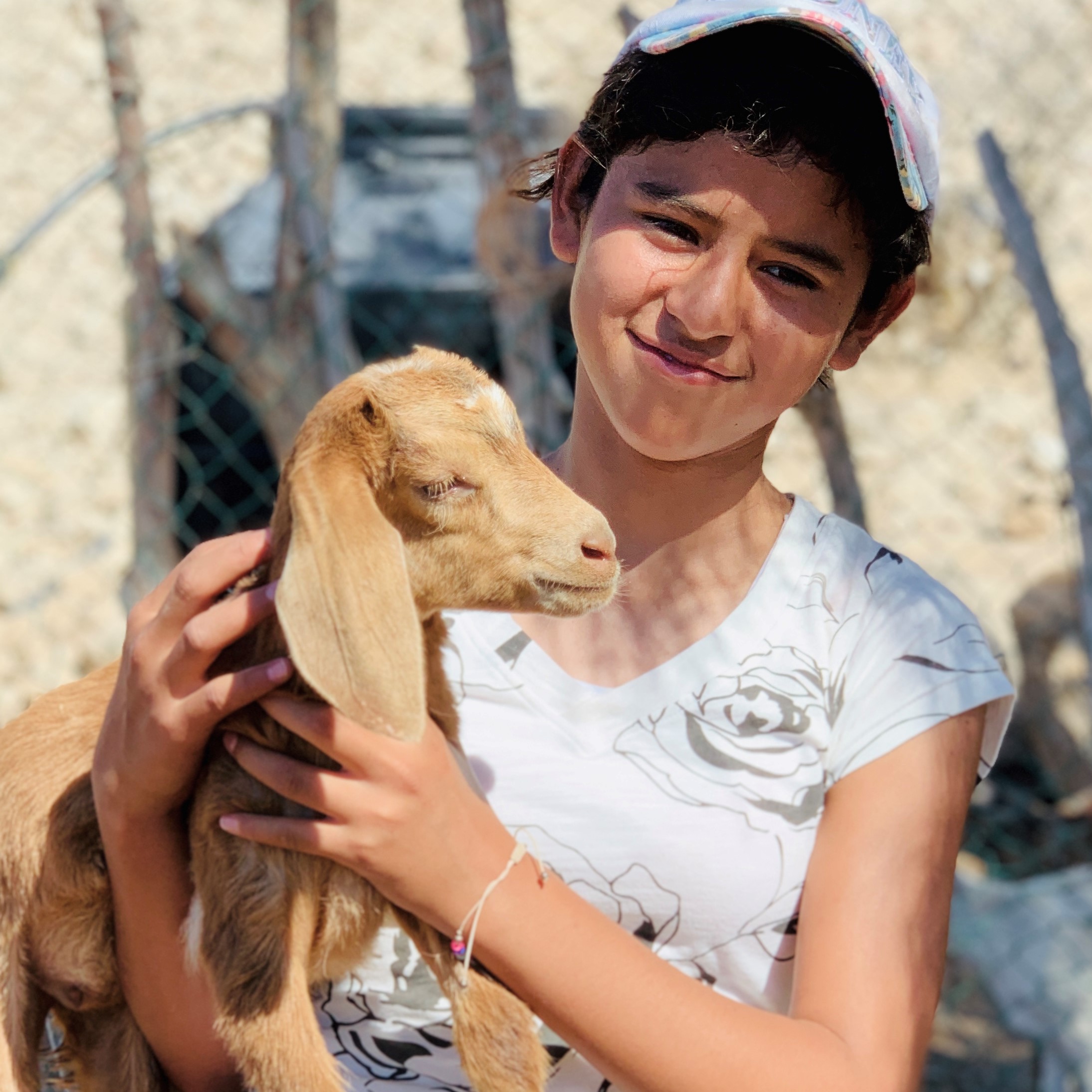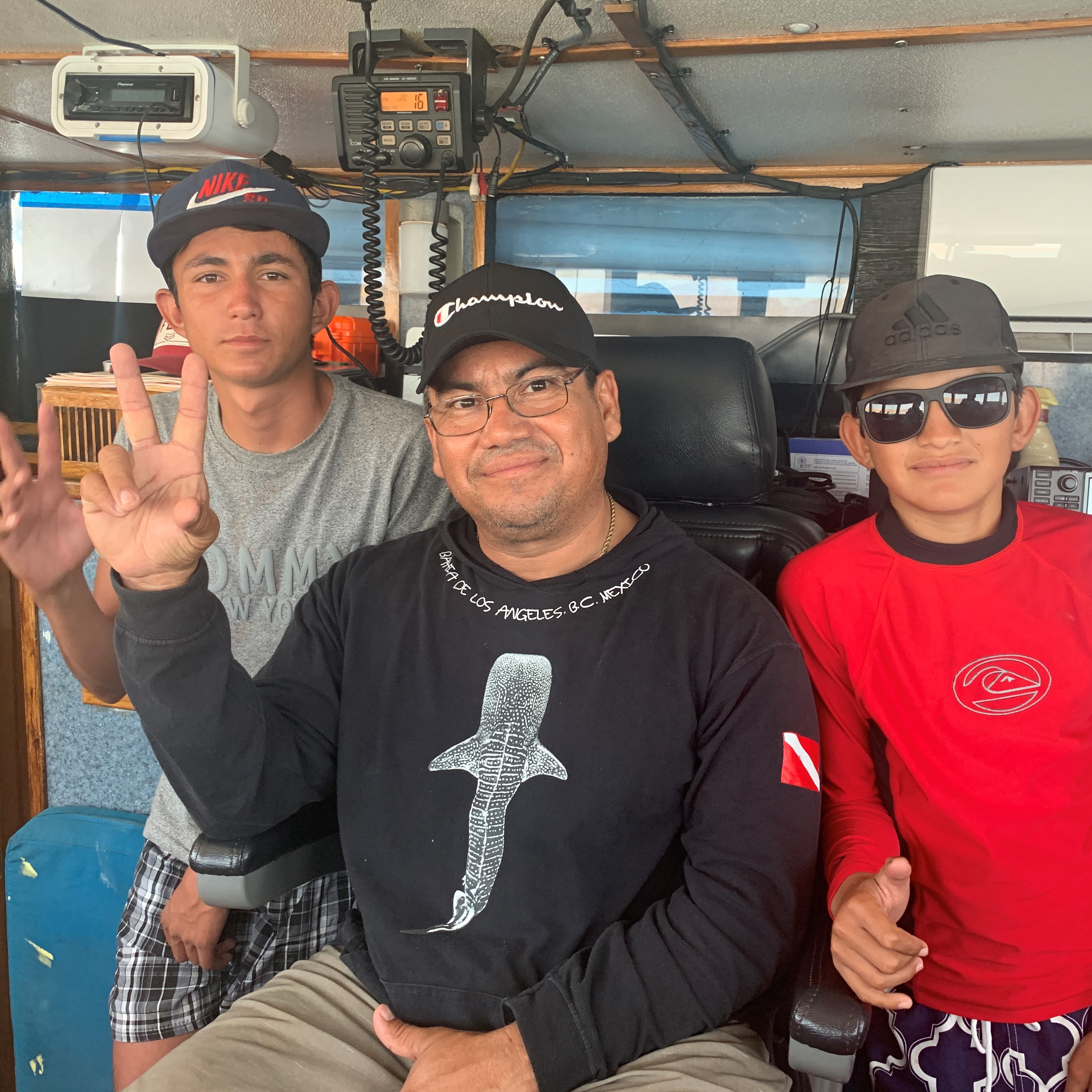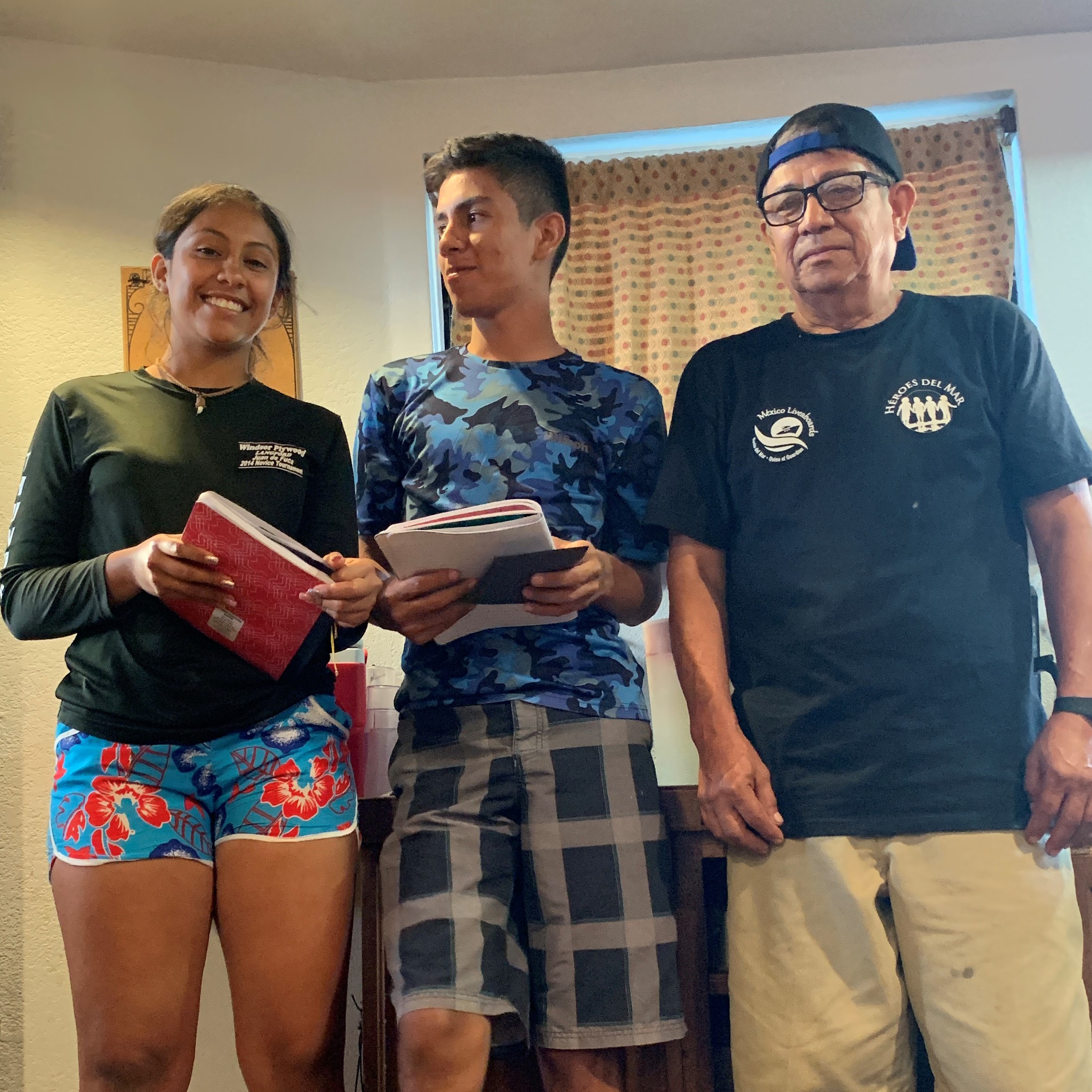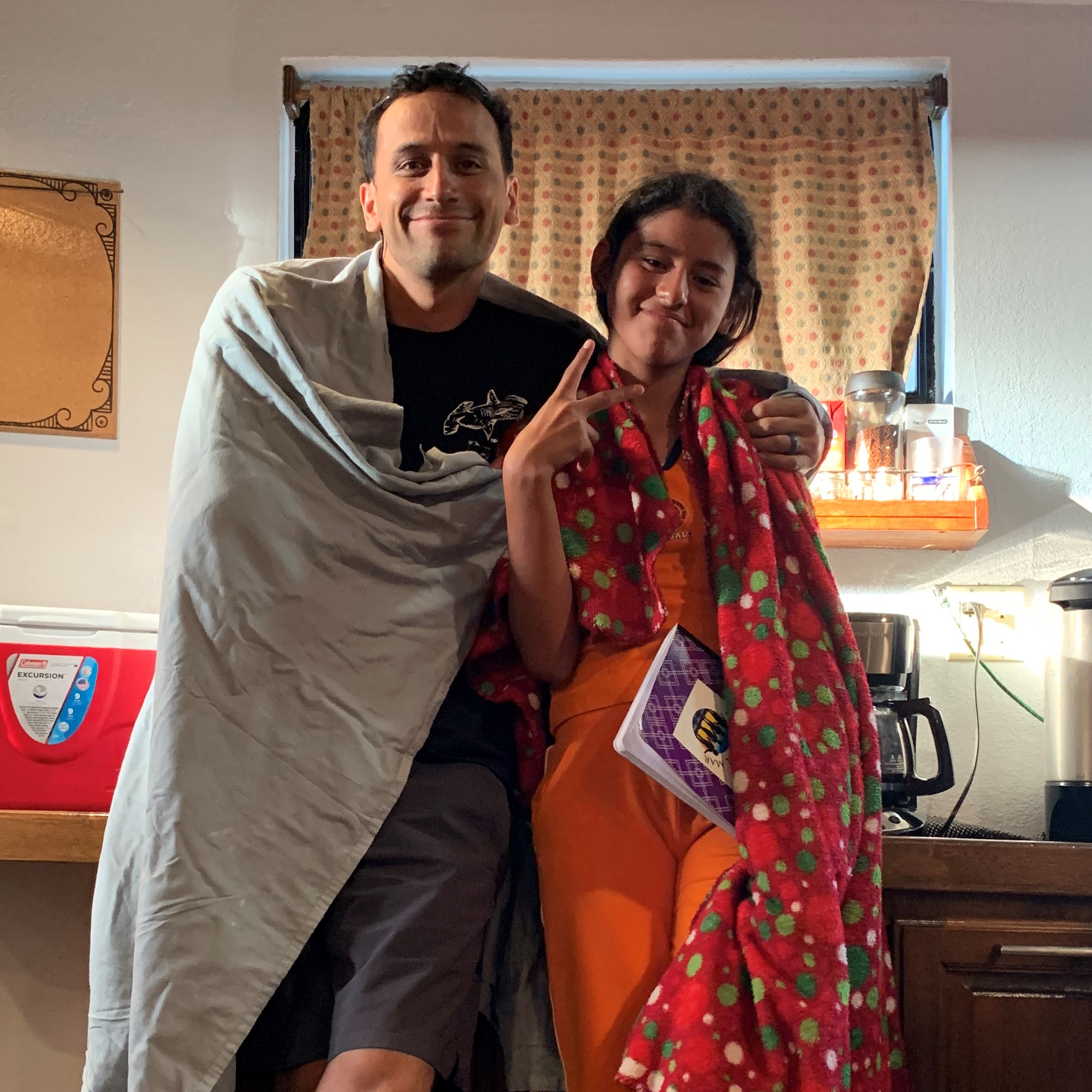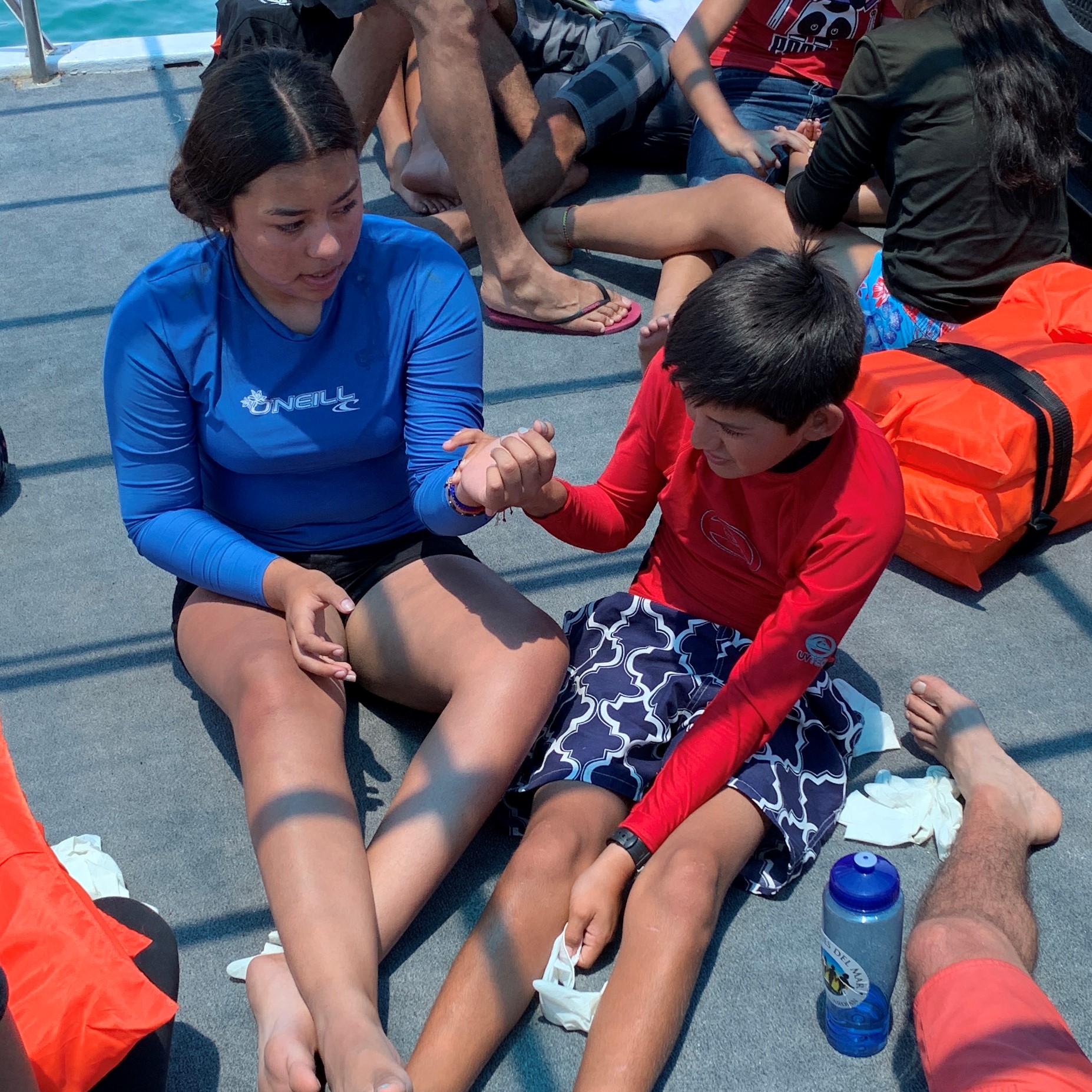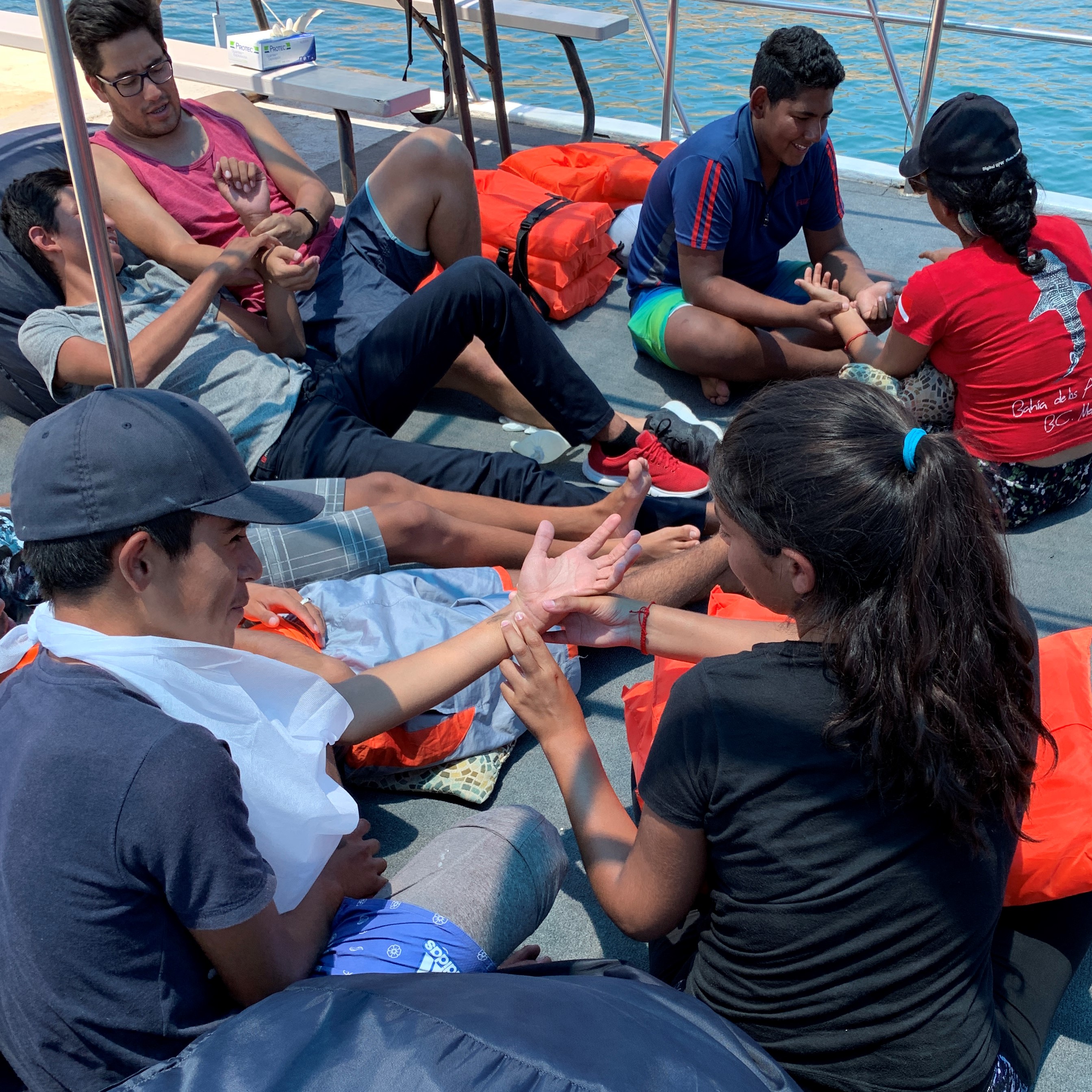 JULY 6, 2019 – DAY 7
Los Islotes at Ensenada Grande
This special day we loaded up the pangas to go look at sea lions. On the way, we came across some fin whales so we got to see whales!  Later we did another economy class and the kids also learned CPR.  The kids began doing their sales presentations on the brochures they created about their communities.  In the afternoon, we did recreational activities on the beach and it was so fun.  We swam, jumped, snorkeled, and played volleyball. 
That night we started with our good-byes.  They were bittersweet.  Each child got to say what they learned and thanked who they wanted to thank.  For most of them, they said it was a life-altering experience and they wished tomorrow was next years trip.  Everybody cried.  Luis gave a presentation to the kids and said his good-byes.  Even Luis couldn't keep it together.  Everybody was crying ….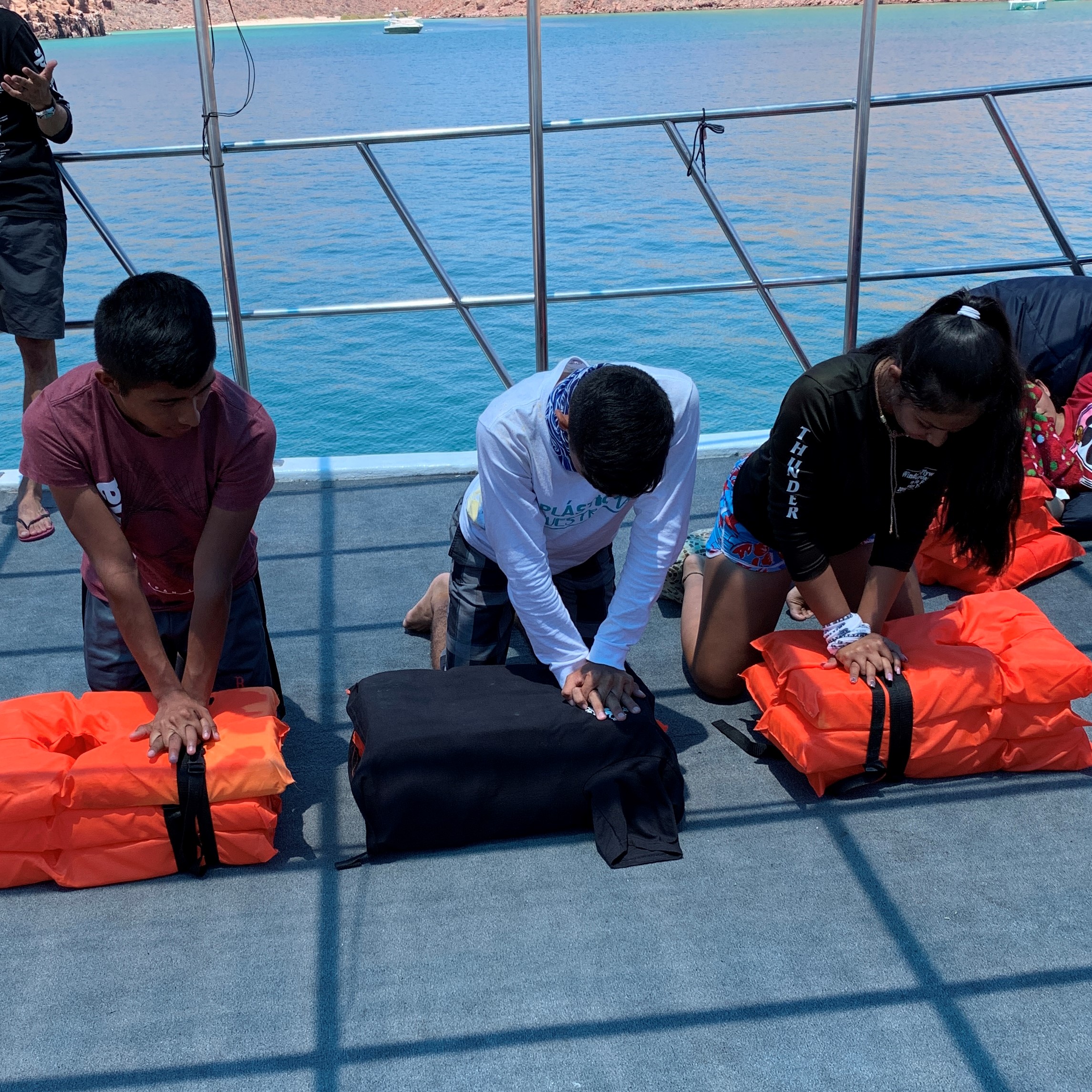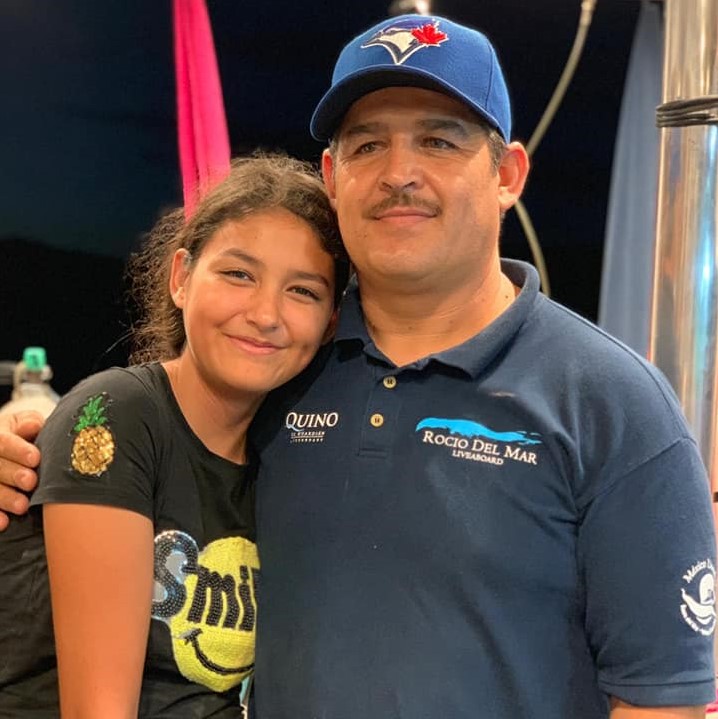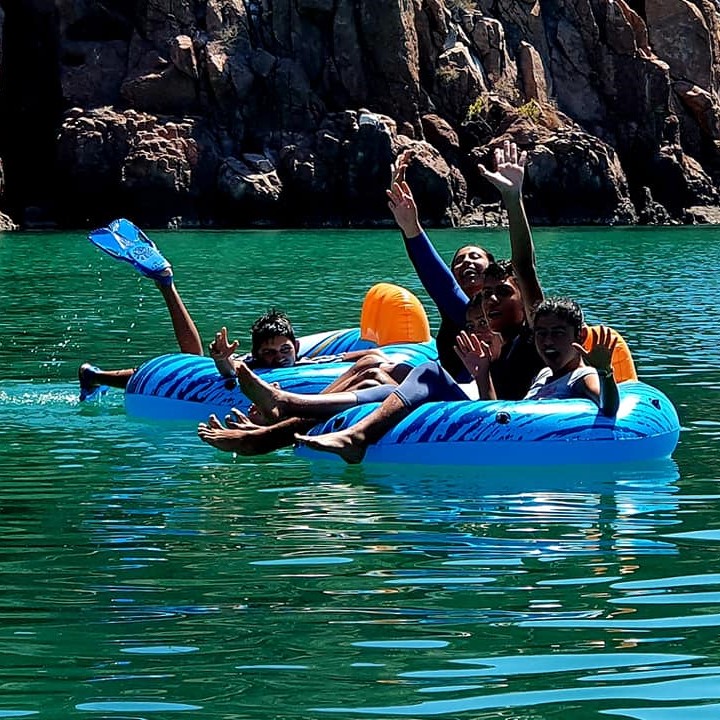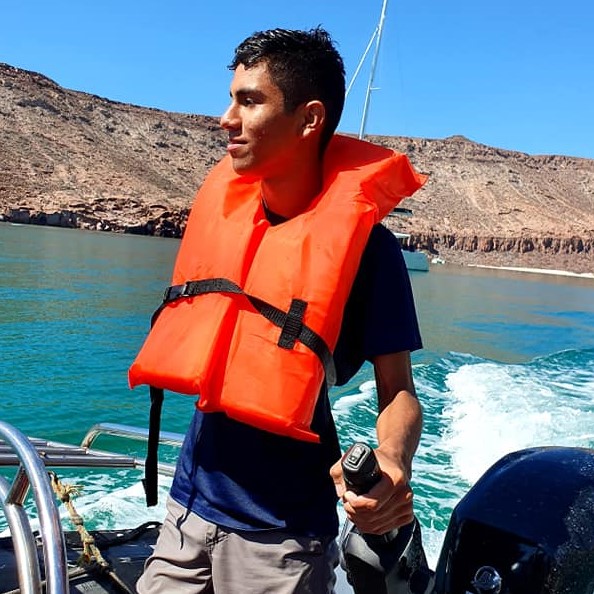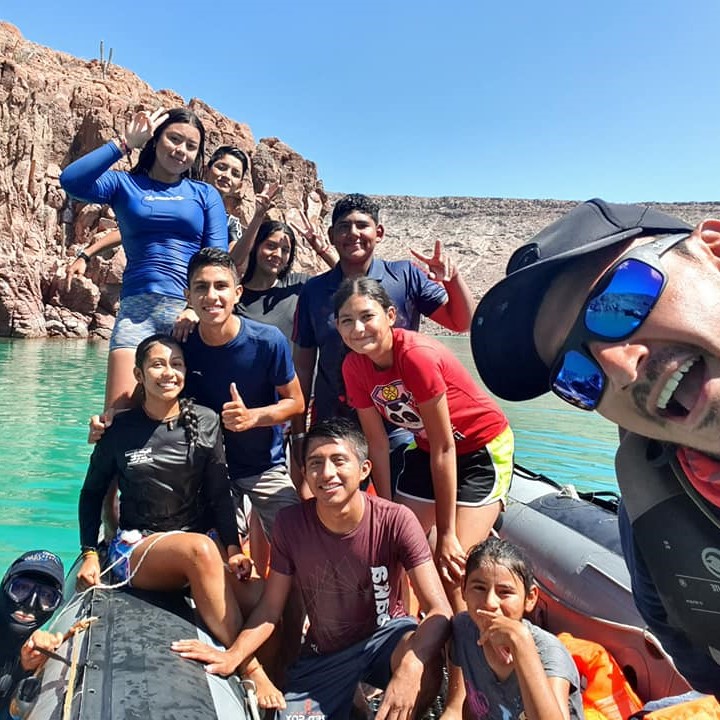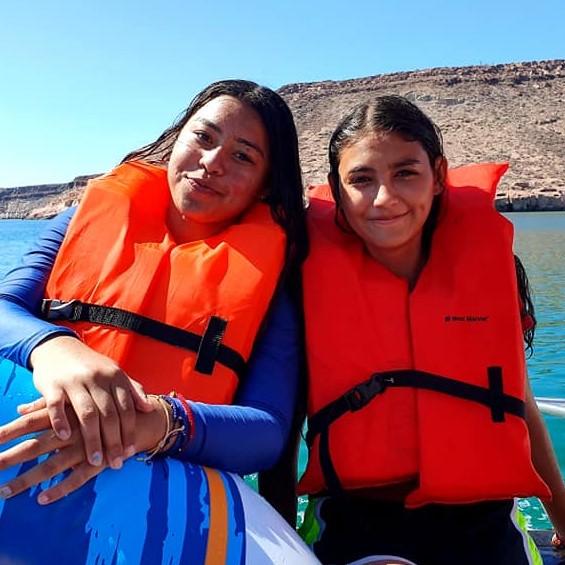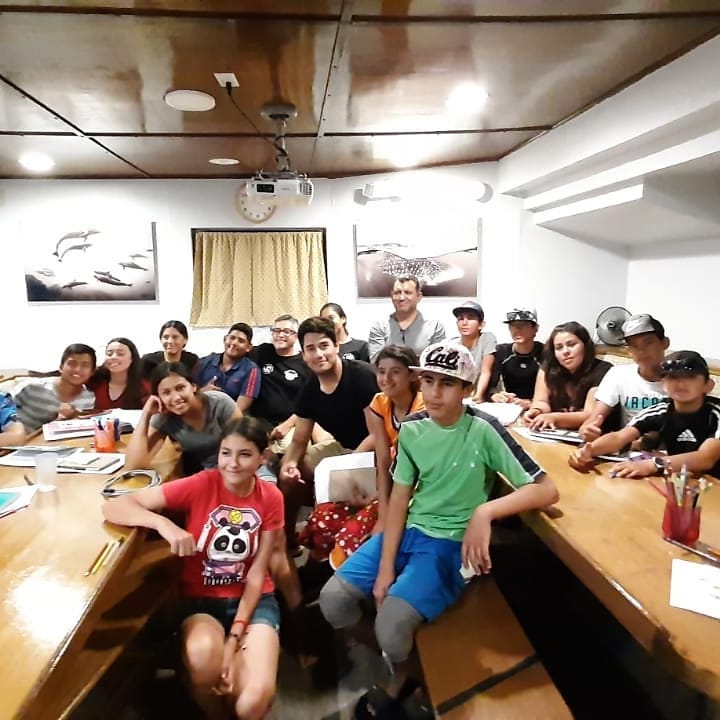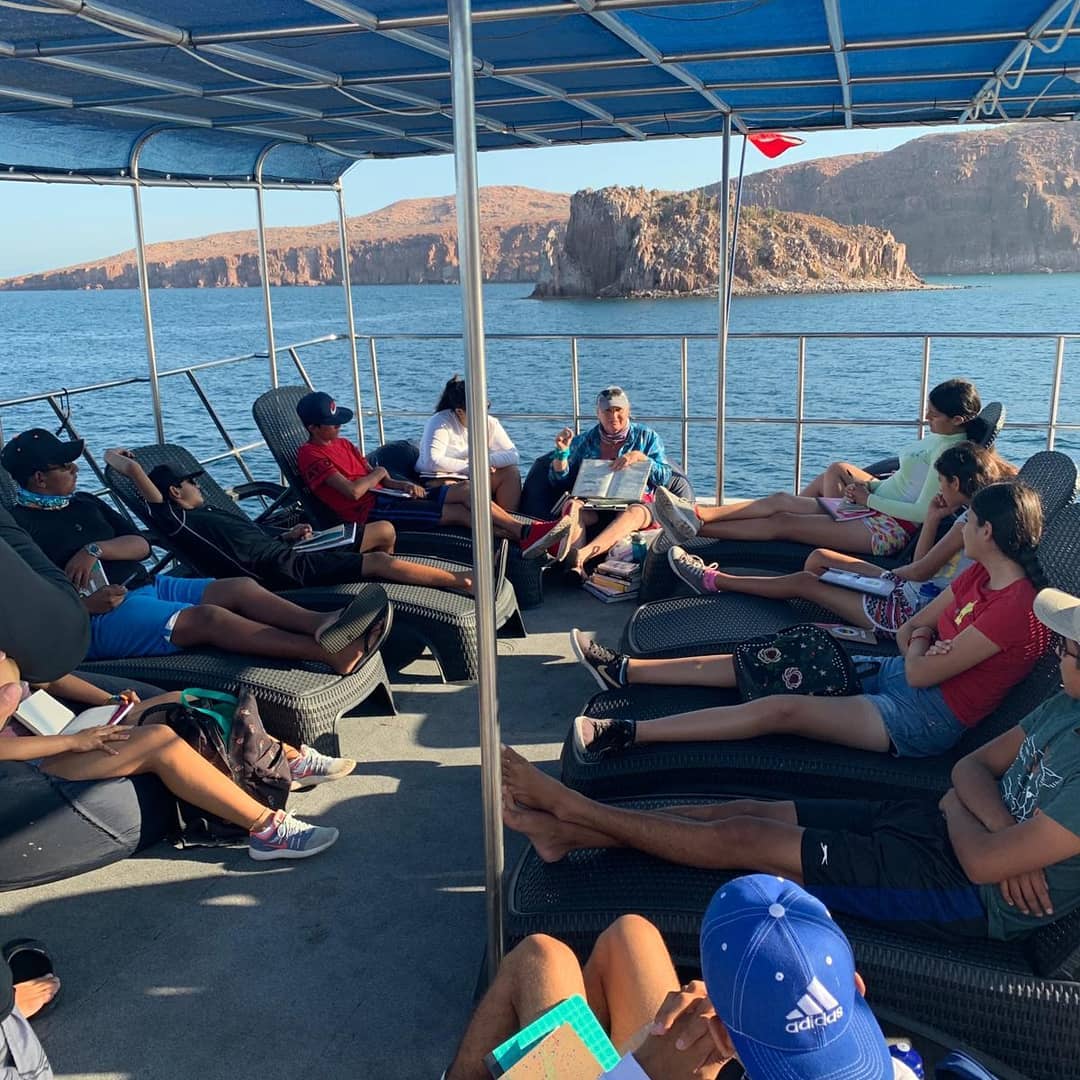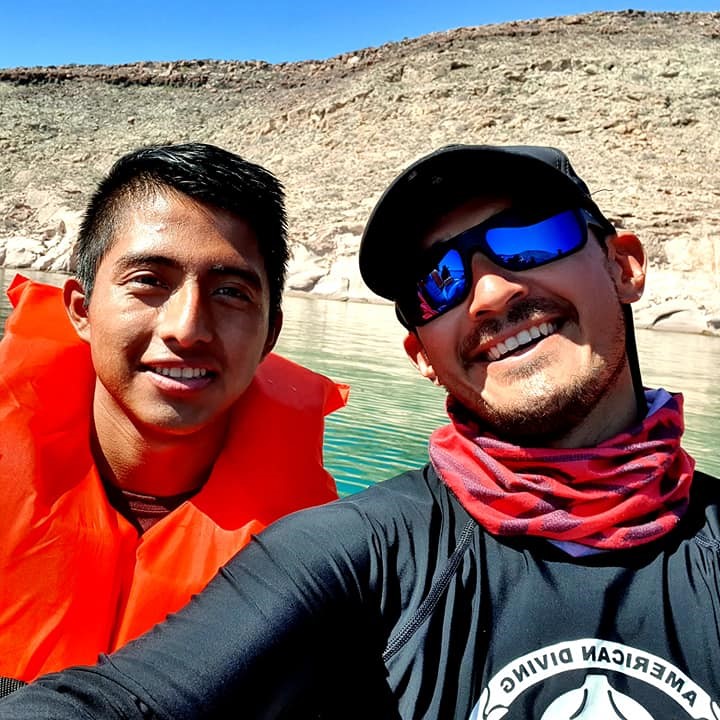 JULY 7, 2019 – DAY 8
Departure in La Paz
If there is one word that explains the metamorphosis in what happened with the children it would be EMPOWERED.  The kids got off the boat completely empowered. One of the youngest kids said, "I knew my community before but now I see it in a completely different way.  I have so much hope for what is to come."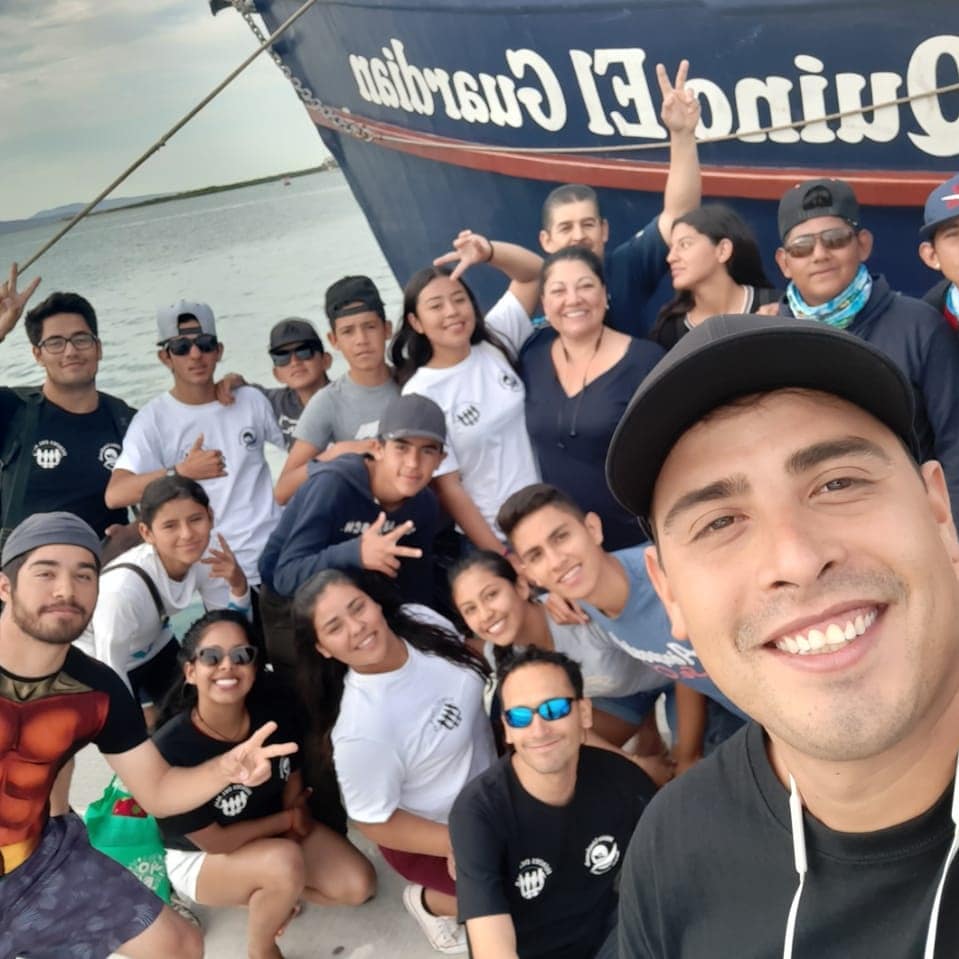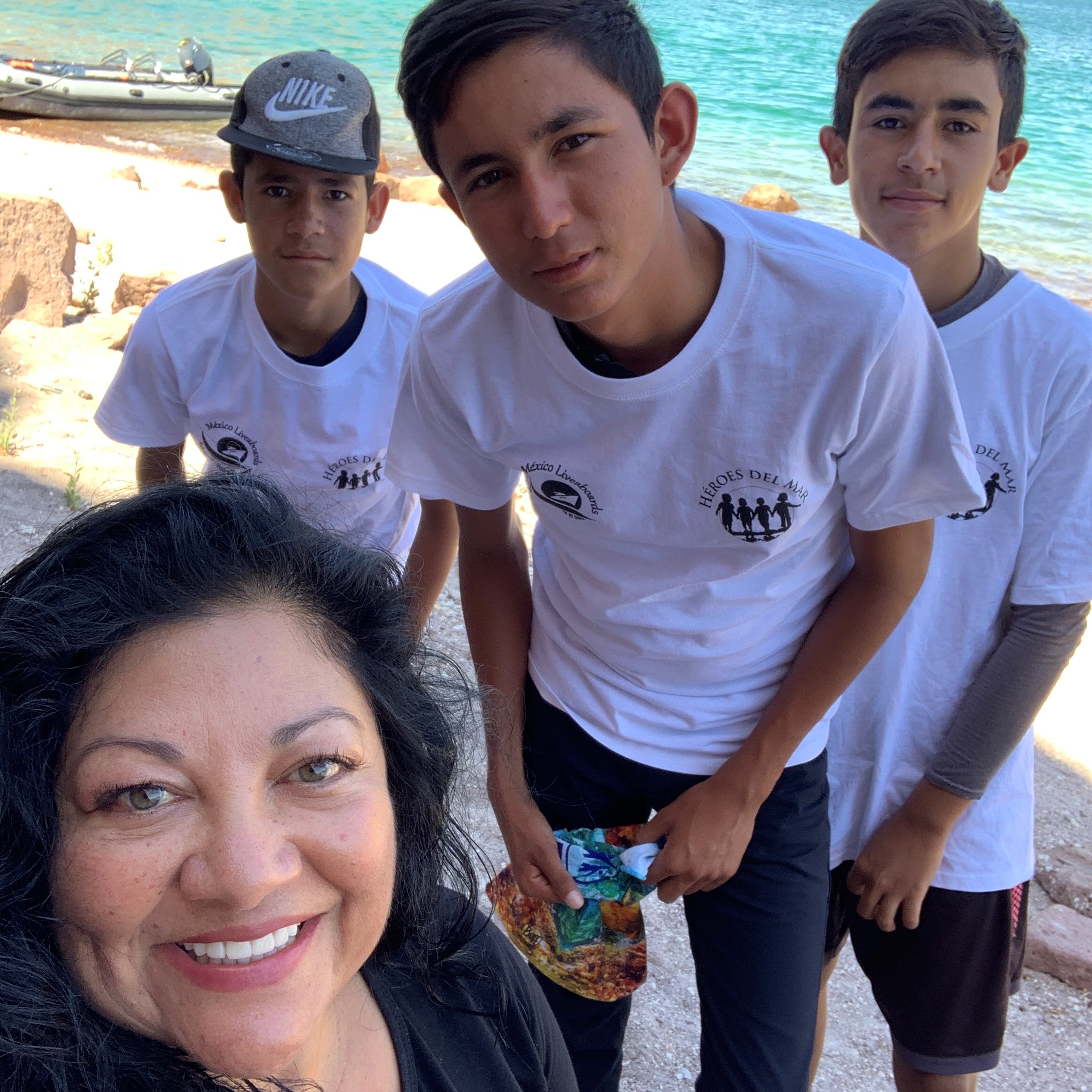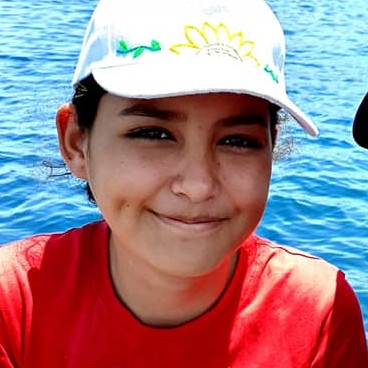 EPILOGUE
We had the kids work with microscopes and learn about geology.  You could see the amazement and surprise in their eyes.  One of the kids said this was nothing like they would learn in school. 
Dora took the opportunity to speak with the girls about what it is like to be female in a small community.  Many girls become pregnant at young ages.  This does not have to be.  Having a baby changes many things.  There are other opportunities for them as young women – possibilities that they never imagined they could have.  Now they do.   
Although we are all home, the connection continues.  Everyone is connected via WhatsApp.  Between dive trips, the crew reaches out to the kids and vice versa.  We asked which kids want to be certified as scuba divers and everyone raised their hands. 
Because our time on the trip is so precious, we don't want to spend it learning to dive.  So we have spoken with a hotel in La Paz, the Bougainvillea, about doing scuba certification there.  The kids will come in on a Friday morning and leave Sunday night.  We will have a crash course learning theory on Friday, pool work on Saturday and diving on Sunday.  They will be certified by the end of the weekend.  This way we can spend our time doing more advanced diving education like navigation or even a rescue class.  We will also continue with classes in economy, geology, science, etc.  In the third year, we hope to create divemasters and continue with economy, science, and tourism and conservation.  We want to equip the kids so they can fly away from the nest or if they chose to stay, they can make a significant and positive impact on their communities. 
During the year we are continuing to work with the communities.  When some of the crew are off, they will go to the village to work with the kids.  Our goal is that each village will be visited at least once a month.  On WhatsApp, the crew reaches out and the kids do as well.  So when somebody has a birthday, everyone wishes them a happy birthday.  We want to have constant communication between all of us.  Some of the kids have their own phones, some are on their mom and dads phone and some kids, like in Agua Verde where cell service is hard to come by, they go to the top of a hill on a Sunday or into a city to get service. 
Something that surprised us was that many of the local professors didn't get involved.  But we did find our own "heroes" to help us like Claudia who was on a trip with Quino el Guardian last summer (Claudia is a scientific diver for her community of Ligüí).   She had meetings at her house with the kids.  
In closing, our first trip was more than we could have ever expected. Though we were nervous and apprehensive in the beginning, it all fell into place.  It truly was unbelievable.  It was especially unique in how it touched the crew and everyone on board.  Hèroes del Mar is now a community and nothing will stop us from bringing these kids forward and involving more kids each and every year. 
Help us keep this dream alive!